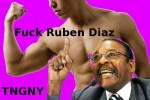 Leading opponent of same-sex marriage Ruben Diaz pointed us this morning to a writing contest in which contestants submit their finest gay erotica featuring none other than the Bronx State Senator.
According to the website The New Gay NY, the contest and reading, called Fuck Ruben Diaz: Gay Erotica Featuring NYC's Number One Bigot! will be held at the Metropolitan Bar in Brooklyn on June 11.
The call for entries reads:
So all you LGBT litterateurs (and allies, of course) pick up your pens and plug in your laptops — if a fool is our theme, let satire be our song. Imagine a day in the life of the Bronx's most prominent Pentecostal minister. Is he downtown scoring poppers? Is he rehearsing his latest screed in his bathroom mirror? Is he waking up in a tangle of hard man-bodies after a raging orgy? Don't think you have to take the closet case angle though, feel free to put Ruben in whatever ridiculous scenario you want — think Onion headline material —  'Ruben Diaz Sprains Ankle, Loses Faith in God', 'Ruben Diaz Tired of Wife's "Meatloaf Mondays"', 'Ruben Diaz Gives Impassioned Anti-Gay Speech to his Co-Op Board', or, I don't know, 'Ruben Diaz in the MI6: Killing for Queen and Country'.
In response, Diaz says,  "As a Christian, of course, I love those who hate me and I will continue to pray for their souls."
And he adds that he remains undeterred.
"It is sad to see the disrespect and irreverence that flourishes from those who have no respect for religious leaders here in New York and those who mock us as we serve our communities," he says. "As a Christian and as the President of the New York Hispanic Clergy Organization, I will continue to defend the teachings of the Bible and oppose homosexual marriage. As a Member of the New York State Senate, I will continue to defend the definition of New York's marriage laws to be between a man and a woman."