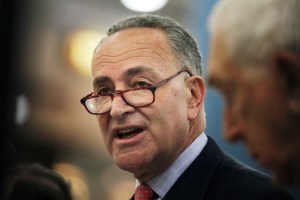 Senator Charles Schumer flew to Western New York yesterday to help campaign for Kathy Hochul in New York's 26th Congressional District, the Washington Post reported this morning.
According to the paper, Schumer made the rounds at a local diner introducing Hochul like this:
"If you care about Medicare and want to keep Medicare as it is, she's your person," Schumer, the Democrats' message man in Washington, said as he introduced diners to Democrat Kathy Hochul. "Her opponent wants to just dismantle it."

At the next table: "If you're gonna have Medicare one of these days, she's fighting to keep it."

And the next: "Her opponent will change it so you wouldn't even recognize it."
Consider it the retail version of the Democrats' national message, which Schumer is charged with crafting.
Democrats would like the race to be seen as a bellwether for the Republicans' controversial Medicare plan, though the race is skewed significantly by the presence of a Democrat-turned-Tea-Party candidate who appears to be siphoning votes from the Republican candidate, Jane Corwin.
Still, both sides have brought in their heavy hitters, with House Speaker John Boehner making an appearance in the district last week, and Minority Leader Nancy Pelosi appearing at a Hochul fundraiser in New York City on Friday.
Schumer emailed a fundraising appeal to his supporters this weekend, imploring them to help Hochul in what has become a surprisingly close race. And his fellow senator, Kirsten Gillibrand, has donated through $2,000 from her Empire PAC, and plans a campaign stop next Sunday–a few days before the May 24 special election.