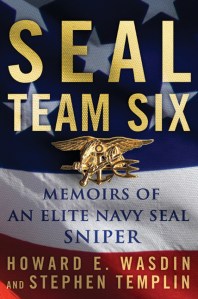 In the aftermath of Osama bin Laden's death, publishers have clamored to sign deals about the event. Former Newsweek chief Jon Meacham is editing an e-book essay collection called "Beyond Bin Laden" for Random House. Peter Bergen has been signed by Crown to write the "definitive" book, tentatively called The Manhunt. One publisher, however, is ahead of the game.
"Sometimes you get lucky with current events," said Marc Resnick, the executive editor at St. Martin's Press. A year ago, Mr. Resnick acquired SEAL Team Six: Memoirs of an Elite Navy Seal Sniper, by a retired Team Six Seal named Howard E. Wasdin and his Seal-trained co-author, Stephen Templin. It was a standard acquisition for an imprint that can publish a dozen or more works of military nonfiction every year.
Then Team Six took out Osama bin Laden, granting Mr. Resnick a publicity opportunity he called "incredible." The book was scheduled to come out May 24; St. Martin's moved up the release date to May 10, flew Dr. Wasdin to New York from his home in Georgia and presented him as a ready-made Team Six expert to the New York media, which promptly made him talking head of the week.
"What he does is help readers understand who a member of Seal Team Six is–just their abilities, their training, and what's involved in reaching the best of the best," Mr. Resnick said.
Dr. Wasdin's prose is hard-boiled: "Yes, hopelessness has a smell," he writes. "People use the term 'developing countries,' but that is bullcrap."
Recounting one firefight in Mogadishu, he refers to the enemy as "booger-eaters."
Mr. Resnick also noted that another St. Martin's book, Kill Bin Laden: A Delta Force Commander's Account of the Hunt for the World's Most Wanted Man, by Dalton Fury, has seen a jump in sales. —Emily Witt