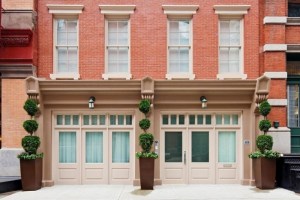 Embattled IMF chief Dominiqe Strauss-Kahn finally found a place to crash under house arrest: a $14M Tribeca townhouse he's apparently already bored with. But how can this be? One blogger who's been inside the place notes secret rooms, bedazzled portraits of Scarface, and a killer MP3 system, made all the better if Strauss-Kahn can actually get it to work.
The semi-mysterious stream-of-conciousness blogger known as Pitchfork Reviews Reviews was tasked with DJing a party for media consultant/media owner Dan Abrams, as Abrams was launching his newest website about moguls: the veneral disease-sounding Mogulite. The party was a little less than two weeks ago, and took place prior to the news of (as PRR calls him: "currently the most famous alleged rapist in the world") Dominiqe Strauss-Kahn's arrest, let alone his forthcoming occupation of the Tribeca manse.
Without further ado, some of the better highlights of Pitchfork Reviews Reviews' hysterical ground report of what this place looked like only nine days ago.
Secret Rooms: "We walk inside the house and immediately there is a corridor lined with floor-to-ceiling gray panels that we walk through to get to the living room. [The party planner] explains that you can push on the panels and new rooms will reveal themselves because there is secret stuff behind the panels. I push on one panel and there's a bathroom behind it, and another panel conceals a big bedroom, and another reveals a coat closet where I hang my hoodie and backpack."
A Bedazzled Portrait of Al Pacino as Scarface: Can't make this stuff up.
A Two-Feet High Rhinestone Carousel Pony: Again, no, really. "A 2-foot-long porcelain carousel pony covered in multicolored rhinestones that sits on a table in a hallway upstairs."
Lucky for us, he took a picture.
A Rhinestone Portrait of Goodfellas: Comment unnecessary.
An Awesome Audio/Visual Setup That Doesn't Work: PRR describes the process of having the broker plug his iPod – used for DJing – into a dock "embedded in the wall," then going on to scroll through his playlists on the television. Attempting to play a song from a playlist, he fails: "No sound comes out of the speakers…we unplug and replug the iPod in the dock and it still doesn't work, then he changes some more settings on the speakers, and then he gives up and puts on one of the music channels on the TV, which plays out of the speakers, and shrugs and gives me my iPod back…If you are reading this right now Dominique Strauss-Kahn and you have figured out how to configure the iPod dock-TV-speaker system nexus, you should shoot the real estate broker an email about how to do it because he is going to have to show that house again after you leave."
'Pourous,' Delicate Limestone Floors: "[The broker] explains that the floors here 'are limestone, so they're very porous, and if someone spills red wine on the floor…' He trails off and shakes his head and looks down, but I think he would have finished, '… then the floor is fucked and I'm fucked by extension.'"
Needless to say, there is plenty more where that comes from, though best is Mr. Reviews Reviews' astute observation that the Jew who may have "become the #1 worst contributor to the public image of Jews worldwide, is on house-arrest in a $14,000,000 house with pretty big rhinestone-on-velour pictures of Scarface and Goodfellas inside it. There is some deeper meaning to be extracted from this I think, but I don't know how to phrase it."
For what it's worth, it's pretty apparent PRR needs no further phrasing. This kind of thing speaks for itself, as does Mr. Strauss-Kahn's boredom while locked up inside of it.
[MORE: Strauss-Kahn Arrest Forces New Yorkers to Confront Their Dirty French Laundry]
fkamer@observer.com | On Twitter