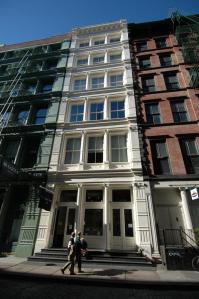 Back in 2008, when George Herbert Walker IV bought a townhouse at 6 East 10th Street for $13.95 million, twice the price it had sold for two years earlier, he was derided as just another punch-drunk Lehmanite. But Mr. Walker, the head of Neuberger Berman, a Fuldian cast-off from the collapsed financial firm and second cousin to the 43rd president, may actually know his way around rich real estate.
In 2002, he bought the penthouse at 45 Greene Street for $1.05 million, and he has just sold it to a mystery buyer for $8.63 million, according to city records. The condo was unlisted, so details on the unit are scant, but according to PropertyShark, the home measures 5,452 square feet, presumably spread across two floors, with what appears to be a

very nice roof deck if Google Earth is to be believed.
Do check back for more details later as this is far from a "Mission Accomplished."
Read past Manhattan Transfers here. >>