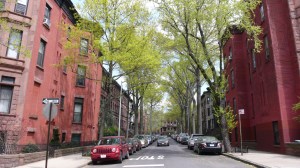 According to the New Testament, wars, famine, pestilence and lawlessness are all signs of impending apocalypse. Other warnings of Armageddon include fire and brimstone, the mark of the beast and Ben Affleck in a NASA suit. But Brooklyn blogger Allison Pennell noticed an even more troubling sign when she looked at the 2010 census results: there are fewer babies in Park Slope. And until a swarm of locusts makes off with Brooklyn Larder's stockpile of artisanal havarti, that's as good an indication as any that the End of Days is upon us.
Granted, the numbers are less than staggering–at this point, only tiny, cage-free canaries in the BroBo coal mine. By tallying data from 20 different census tracts that make up the neighborhood, Ms. Pennell counted 574 fewer Slope residents under the age of 18 than there were in 2000, even though the general population grew by about 1,200. "This means that while the population increased by 2 percent overall, the number of rugrats and teens went down by 5 percent," she wrote in a May 6 post on the blog Fucked in Park Slope. But Ms. Pennell concedes that her math is murky at best. "It's hard to tell," she said. "The census hasn't released age breakdowns any narrower than 0-18, so there's no way to know if there are fewer young kids." In other words, Children of Men can't be classified as a documentary just yet.
"Five hundred does not sound like a big number in an area of 60,000," said Craig Hammerman, district manager for Brooklyn Community Board 6, which serves Red Hook, Carroll Gardens, Park Slope, Gowanus and Cobble Hill. "I wouldn't say that you would notice any fewer strollers on the sidewalk." Meghan Andrade, co-owner of the children's clothing store Lolli, also questioned the accuracy of the data. "I don't think there's 500 kids less," she said. "My gut just doesn't really feel that." And while it's true that The Observer saw no shortage of breastfeeding infants at the Union Street Tea Lounge on a recent weekday morning, some local shop keeps acknowledged a demographic shift. Brigitte Prat, the owner of Lulu's Cuts & Toys on Fifth Avenue, suggested that the problem might be that Park Slope parents (SloBos?) have become so overzealous about reproduction that they have inadvertently priced themselves out of the neighborhood, popping out more and more offspring but housing them in cheaper nabes. "They're going to Windsor Terrace, Prospect Heights, Ditmas Park," said Ms. Prat. "The neighborhood is spreading–each neighborhood connected to Park Slope is slowly gentrifying. It's just spreading out of Park Slope and bleeding into the other neighborhoods." Darleen Scherer, co-owner of Gorilla Coffee (where Jake Gylenhaal and Taylor Swift famously purchased maple lattes in November), says that she hasn't noticed fewer kids, but she has noticed the absence of another Slope staple. "I've noticed less [sic] lesbians," Ms. Scherer said.
Gasp! Could Dyke Slope and Tyke Slope be collapsing simultaneously? For years, media outlets (even reputable ones such as Curbed and The New York Times) have reported that Park Slope's sapphic sector is flying the coop–and the co-op­–for Kensington and Sunset Park. First the gays, then the babes … if Jonathan Safran-Foer and Nicole Krauss put their brownstone on the market, it's tornado shelter time, Auntie Em.
Of course, before we start looting and setting fire to strollers, it's important to note that the more likely (albeit less fun) conclusion is that the miniscule decline in the gay and pre-K populations is merely a correlation of the rise in income. "Despite the recession, Park Slopers are making a lot more money than they were 10 years ago," said Ms. Pennell, citing a 57 percent rise in residents pulling in salaries north of 100K. And according to Mr. Hammerman, a neighborhood's wealth directly affects its census numbers. "As there's more wealth concentrated in a neighborhood, the population density decreases," he said. But that does not mean there will be no more strollers in Park Slope. The pilgrims will march, say residents. "They walk for the playgrounds and the mommy's groups. People walk from Kensington," said Ms. Andrade. "People will walk farther and come to the neighborhood even though they don't necessarily live here."
ulamarche@observer.com
Additional reporting by Emily Witt.