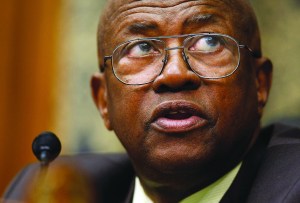 Ed Towns didn't bother to show up at the Stars and Stripes Regular Democratic Club in Bensonhurst on a drizzly Wednesday night last week, when party leaders gathered at the Brooklyn storefront to snack on pizza and doughnuts and decide whether to welcome him into their ranks.
He sent an aide instead, who gamely passed out letters from the congressman with a clip-art illustration of the U.S. Capitol, on which Mr. Towns had written: "More than anything, I want us to return to the glory days when our Borough commanded the respect that we deserve as the largest Democratic county in the United States."
Mr. Towns, the state's second-most senior congressman, was trying to regain a measure of respect for himself, too.
He had put his name forward as a district leader–an obscure, unpaid, intraparty post, usually the province of ambitious youngsters, or a fiefdom for the well-entrenched to bulwark their political support–in an effort to keep the job in the family, after his son, Darryl, had vacated the post to serve as the state's housing commissioner.
Challenging Mr. Towns was Erik Dilan, a city councilman whose father, State Senator Martin Dilan, once worked for the congressman. In the intervening years, the Dilans aligned themselves with Brooklyn Democratic Party boss Vito Lopez, and the two political families have been locked in a dispute so long-running that no one can quite recall how it began.
"They detest each other," said one longtime Towns confidante. "It's like the Hatfields and McCoys right now–a deep family blood feud."
It's a feud that could threaten Mr. Towns's long-standing status as a Central Brooklyn power broker and endanger the congressional seat he has held, rather precariously, since 1983. The families' most recent clash was set off when Mr. Towns's son, Darryl, left for the Cuomo administration, abandoning the seat he had held for 19 years in the State Assembly and relinquishing his district leader post.
As charmingly, maddeningly, still happens in the ward boss precincts of Brooklyn, the Townses and the Dilans met at a local restaurant to hash out how the open seats might be divvied between them. According to representatives from both families, the Townses wanted Erik Dilan to run for Darryl's Assembly seat, giving up his Council seat and allowing the Townses to run one of their own for the City Council. And, of course, Ed Towns would be able to run unopposed for the district leader job, setting him up to one day become head of the county party should the anti-Lopez factions settle on a candidate.
But the Dilans had no incentive to negotiate, and the deal fell apart, setting of a pitched proxy battle for a handful of local offices between members of the Towns family and forces aligned with the Dilans.
"It's a little bit shocking that the ultimate back-room dealers couldn't cut a deal," said one party official. "Vito and the Dilans at the end of the day said, 'We don't need him.' They'd rather beat him than cut a deal with him."
In Bensonhurst they did just that. While Mr. Towns was busy helping his daughter's campaign for his son's old seat, Mr. Dilan was at the door, greeting the district leaders with a warm handshake and a kiss on the cheek. After an hour of speeches, a roll call vote was held, a cheer went up, and Mr. Lopez asked the assembled partisans: "Should we welcome our newest district leader?" A bouncer unlocked the bolted door–no press or outsiders were allowed inside–and Erik Dilan took his seat among the party brass.
By that point, the rain had begun to fall in earnest, and Mr. Towns's young aide had taken a car home.
The final tally: Erik Dilan, 36; Ed Towns, 10. Only a few anti-Lopez reformers and a handful of party officials from his home district backed a man who, just a few years ago, chaired the powerful Oversight Committee in the House of Representatives.
"If there ever was a sign that the knives were out for Ed Towns, that was it," said one longtime neighborhood political operative. "When the insiders, when people you've known for 30 years, are willing to publicly not support you and are not worried about the repercussions, it is a pretty dramatic sign that you need to be evaluating the ground that you stand on."
In truth, the knives have been out for Ed Towns for a long time. In 2005, Nancy Pelosi threatened to strip him of his committee assignments after he was inexplicably absent from a key budget vote that Democrats narrowly lost. ("People miss budget votes all the time," Mr. Towns said by way of explanation.) He still hasn't lived down his support for the Central American Free Trade Act, which most Democrats decried as hurting American workers. And, after Republicans took control of the House in January, the White House conspired with congressional leaders to push Mr. Towns from his perch as the ranking member of the House Oversight Committee, in favor of someone more pugnacious. (Mr. Towns said that he gave up the gavel voluntarily.)
At home, he has never been a beloved neighborhood presence like Charlie Rangel, or someone who can turn policy positions into major media stories like a Jerry Nadler or an Anthony Weiner. Earlier this year, in a video posted on YouTube and passed around Central Brooklyn political circles, a Towns staffer was heckled at a community board meeting when she insisted that the neighborhood they were in was Williamsburg–when, in fact, it was Bedford-Stuyvesant.