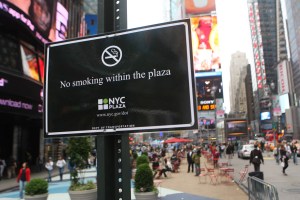 Three days after New York's ban on smoking in city parks went into effect, The Observer, ambling along one of Central Park's idyllic stone paths and in plain view of a number of badge-wearing rangers, lit a cigarette. Wondering about the potential repercussions of the act, we approached the scrum of law-enforcement types.
"Excuse me, officer," we said, Marlboro blazing between our fingers. "How is the ban on smoking in the park going so far?"
She stared at the stick burning in our hand.
"It's going well because when we ask people to put out their cigarettes, they do," she said, without asking us to do just that.
"People are being cooperative, then?" we asked.
"Most people, but you're smoking right in front of me."
"Yes, I am," The Observer replied. "Would you like me to put it out?"
"I would really suggest you do."
"So, are you telling me to put it out?"
"You do understand the rules, correct?"
"Yes," The Observer said, dragging until only the filter remained and then flicking the tar-stained bit of cotton and stale tobacco leaf into a bush. "I understand."
LAST FEBRUARY, Mayor Michael Bloomberg signed into law the most sweeping antismoking legislation seen in this city since bars and restaurants went butt-free in 2002. Many cheered the prospect of a cleaner New York. Others–even antismoking activists–decried the rise of the nanny state. The policy went into effect on May 23, and though it's early, environmentalists are optimistic that exterior urban spaces will be cleaner and greener. If the law works, places that will be forever free of smoke-related riffraff include: parks, beaches, boardwalks, public golf courses, stadiums and the pedestrian walkways in Times Square and Herald Square.
But it remains to be seen just how seriously authorities and smokers are taking the ban. There is a requisite warning before a $50 ticket is issued, and continued delinquency results in a $250 fine, but as of this writing officers have yet to give out a single ticket. And it's possible they never will, since, according to the parks department, "the new law will be enforced mostly by New Yorkers themselves. We expect that New Yorkers will ask people to follow the law and stop smoking."
Department spokesperson Vickie Karp emailed The Observer, hailing the "positive response" and foreseeing "most New Yorkers enjoying and following the new rules."
"So far we are seeing a very high rate of compliance," she wrote in an unprompted follow-up. "We have not received any reports of smokers refusing to put out their cigarettes when asked to. We will issue summonses to those who fail to comply as the situations dictate."
The Observer was skeptical. If the city can't adequately regulate its indoor smoking ban–we light up in places all the time!–how can it hope to wrangle smokers in the wild?
So, we set off to test this new rule by chaining cigs in off-limits locales. Then, we turned the tables, deputizing ourselves and (pack-in-pocket, mind) policing our fellow smokers, snitching offenders to rangers and making citizen's advisories (smoking is not a citizen's-arrestable offense).
The verdict? Fear not, smoke-happy brothers and sisters. The world is still our ashtray.
THE TWO MEN WITH FAT STOGIES were dressed in suits. It was around 4:00 p.m., and the table-laden plot of beige concrete that is the Times Square pedestrian plaza was packed. The duo smoked their cigars at the nose of the oblong seating area, the steaming wads of tobacco big as billboards.
"Are you serious?" Joe Wilson, the first man, said when admonished by The Observer. "You really can't smoke here?"
We produced a printout of the rules from our pocket and pointed.
"We're both lawyers," admitted Ron Bliss, the second man. "We abide by the law."
"We're gonna go smoke in the permitted area," Mr. Wilson said. And they did.
Two policemen watched the entire episode.
"We're not focused on people trying to smoke," said one of them, an Officer Pagan. "We're focused on safety." And right he is: only park rangers, and not policemen, may issue warnings and tickets under the new ban.
Everyone, it seemed, was getting away with smoking, even those directly below the shiny new signs announcing the ban. Where were the park rangers? The fastidious men and women charged with keeping this cramped plaza clean-aired and butt-free? They were nowhere in sight; the lack of patrol was glaring. At least for now, go ahead and smoke to your damaged heart's content all over the bustling environs of Times Square.
Mere feet away, two fetching young women crouched over a legion of Victoria's Secret bags and fumbled for smokes. They then did the honor of lighting each other.
"We are French," one offered as an excuse. Fine, you're exempt, mes chéries, at least in The Observer's gimlet eyes.
"Can I bum a cigarette?" asked a girl, perhaps 16, sitting on a bench in that lawless spread.
"You know it's illegal now, right?" we said, and pointed to the sign. "You can't smoke here."
"Don't care," she replied, listlessly tapping her red Converse.
"Well, O.K.," The Observer said, and handed over a Marlboro.
"And a light?"
We gave her one, and she thanked us. We spun glances around, confirmed there were no park cops in sight (no danger there, it turned out) and lit one up too.