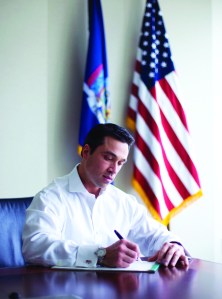 At a junior high school auditorium in southwestern Brooklyn on a recent Wednesday evening, one man sitting in aisle seat kept muttering to himself, "You are full of shit, you are full of shit."  An elderly woman in the front row repeated the phrase "It's because of Bush!" over and over. Another kept bringing up the example of Cuba.
It was the first town hall for Congressman Michael Grimm since he had been elected last November for a district that covered this little sliver of Brooklyn and all of Staten Island, and Mr. Grimm, the city's lone Republican in D.C., had already battled through a rough Congressional recess. Reports from around the country revealed that Republicans had faced an onslaught of criticism at these kinds of meetings for their support for a recent budget proposal—designed by Paul Ryan of Wisconsin—that included a drastic reconfiguration of Medicare. A few days earlier, The New Yorker published a story about the dangers of confidential informants, and reported that Mr. Grimm, a former F.B.I. agent, had drawn a gun during an altercation at a night club and demanded, "All the white people get out of here."
Democrats had been targeting Mr. Grimm since the day he was sworn in, in January. For those gathered at the William McKinley Junior High School, it was game on. To them, it was as if John Boehner came to Brooklyn. Armed with a Powerpoint dedicated to the wisdom of the G.O.P. budget, the congressman gamely soldiered on.
"Go ahead and boo!" he said at one point, punching the air in a mock cheer. "Get it out! Get it all out! It's good for your lungs!"
Such is life for Mr. Grimm these days, part of the wave of Tea Party Republicans who washed up on the shores of districts that were, at the very least, a mix of conservatives, Democrats and swing voters, and who have now been forced to balance the moderate needs of their districts with the rage of the right-wingers who fueled their ascent.
Mr. Grimm's predecessor, Democrat Mike McMahon, was a long-time politician who grew up on Staten Island—where most of the district is centered—and who methodically worked his way up the political ladder. Once in Congress, he carefully toed the tripwire, voting against health care reform and cap-and-trade legislation, for the stimulus but against taxing AIG bonuses. National Journal rated him dead center—217th—in its annual scorecard of the voting record of the 435 members of the House of Representatives.
So far, Mr. Grimm has been far more willing to follow the House leadership. He was an early and enthusiastic backer of the Ryan budget, voted to defund NPR and was part of the effort to block federal money from going to Planned Parenthood. ("And you know what, ma'am, I don't believe that we should be funding abortions and I don't apologize for it!" he told one woman in Brooklyn. "So scream, jump up and down, I don't care! I will not support abortion, period, the end!") But the lurch rightward hasn't necessarily endeared Grimm to the Tea Party, who have lambasted him for trying to bring federal funding to the New York City area, and for his unwillingness to support a government shutdown in the battle over this year's budget.
In response, Mr. Grimm released a statement attacking "the extreme right of the Tea Party."
Asked how his cohort approved of the job Mr. Grimm was doing, Frank Santarpia, the leader of the Staten Island Tea Party group said, "I have to give you a measured response. Hold on." After gathering his thoughts, Mr. Santarpia continued, "He is certainly wiling to talk to us. We communicate. He is aware of those within the Tea Party ranks that think he should be more aggressive."
Still, referring to your base as extremists is never good politics, right? "I think he misread what constitutes 'extreme,'" Mr. Santarpia said. "When so many people feel something should be done a certain way, it has become more mainstream than extreme."
Staten Island politics differ substantially from the rest of New York's and are closer to the small-town, rotary-club glad-handing familiar to the rest of the country. The two previous occupants of Mr. Grimm's House seat, Mr. McMahon and Vito Fossella, were longtime Staten Islanders who have known each other since they were 11 years old. Mr. Grimm, however, emerged on the local political scene as a veritable unknown.
His opponents picked up on this Don Draperesque lack of provenance, and alluded to it throughout the campaign. They alleged his military medals, from his time serving in Desert Storm, were fake. They questioned why he abruptly left the F.B.I. to start a restaurant business that promptly failed. They pointed to an apparent quickness to anger—twice during the campaign he got into public altercations with other elected officials or their supporters. (His Tea Party allies gleefully posted the videos online, as if they were a badge of pride.)
Since being sworn in, Mr. Grimm hasn't necessarily helped himself. Besides his Tea Party dig, he once answered a question about the perks of being a congressman with, "It's the ladies." (He quickly clarified that he was kidding.) Despite voting to repeal the Affordable Care Act, he elected to keep his own government-sponsored health insurance and attempted to justify it by saying, "What am I, not supposed to have health care? It's a practicality. I'm not going to become a burden for the state because I don't have health care and, God forbid, I get into an accident and I can't afford the operation." After the shooting of Gabrielle Giffords, he proposed arming members of Congress and their aides.
To Mr. Grimm, the focus on these gaffes is part of a general tendency by the press to favor those on the other side of the political aisle. "Overall, the media in general has gone along with this demonization of the Republican agenda that we want to hurt seniors or we are not caring, when it is the complete opposite," Mr. Grimm told The Observer. "I haven't met anyone that wants to hurt a senior. That's absurd."
Political prognosticators are divided on how endangered Mr. Grimm is headed into 2012. The district has been trending rightward ever since 9/11 (a large number of residents were killed in the attacks), voting for George Bush and John McCain, but it has also elected several Democrats in down-ballot races.
Redistricting will be a significant issue too. The district likely will expand further into Brooklyn, where there aren't many Republican-leaning neighborhoods left. The district could also gobble up parts of Boro Park, with a heavy concentration of Orthodox Jews who have been known to pull the lever for Republicans; Grimm has been working hard on issues related to Israel and the Jewish community. But, given Mr. Grimm's status as a freshman member and political neophyte, he is not thought to have a lot of sway with the line-drawers in Albany who will ultimately decide how districts look for the next 10 years.
For now, the Democrats' best hope to retake the seat lies with Mr. Grimm's predecessor, Mr. McMahon, who has remained mum on the possibility of seeking the seat again. (Those close to him say he will wait until he sees what the new district looks like.) Robert Diamond, an investment banker whose mother worked for a former Congressman, is also eyeing the seat, and Democrats say that Mark Murphy—whose father served in Congress and who now works for Public Advocate Bill de Blasio as a local liaison to the island—would be a formidable candidate. State Senator Diane Savino is also a contender, but despite her recent inclusion in a group of centrist Democrats in Albany, she may have too liberal a voting record for a district that went for Mr. McCain
For his part, Mr. Grimm said that Democrats will have an advantage in 2012. "Democrats have the edge. They have a populist message—they are the ones that are going to stand up for seniors and the single moms and the cats in the trees, and Republicans hate puppies," he said.
And indeed, there has been a near constant strategy of harassment on the part of local liberals, with MoveOn.org and the Working Families Party holding several protests in front of Mr. Grimm's office. "I think everyone is ready to work," said Roy Moskowitz, a local Democrat activist. "We are very interested in taking him down."
A few days before the New Yorker piece, and before Mr. Grimm met the voters of Brooklyn, and before Republicans pulled the rug from under the backers of the Ryan budget, Mr. Grimm toured Beekman Tower, a still-under construction residential tower in Lower Manhattan, which, when completed, will be the tallest such structure in the city's history. Mr. Grimm wore a hard hat and blue jeans and chewed gum and was led on the tour by a bunch of similarly outfitted union reps and the project's developer, Bruce Ratner. The group took a rickety cage of a construction elevator up the side of the building. The whole city seemed to breeze through the bars. "It's the working people of America that drive this country, Mr. Grimm told the group. "Always has been."
His presence there illustrated the awkwardness of life as a Republican these days. It is hard to talk about the need to reduce government spending and simultaneously call for more government investment in construction projects. Now that he is in Washington, the next major battle will be over the debt ceiling. The government must lift it or risk sending the economy into free fall. Mr. Grimm and his Tea Party allies say they won't lift it unless the White House makes structural reforms that lead to major spending cuts. For now, the G.O.P. leadership backs them up. But they said that about the Ryan budget too at one point.
"If the Democrats try to lift the debt ceiling without serious structural reforms," Mr. Grimm said, "then we will have a face-off. The future of our country is at stake."
dfreedlander@observer.com