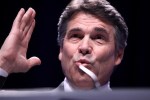 After Donald Trump abandoned his presidential bid earlier this month, he abandoned his scheduled speaking appearance at the Manhattan Republican Party's annual Lincoln Day dinner, setting off a furious reaction from county party chairman Dan Isaacs.
Well, the party goes on, as they say, and Isaacs has landed a pretty formidable back-up: Texas Governor (and possible presidential candidate) Rick Perry.
In a statement, Issacs takes pains to say that his home state would be better off if someone like Perry was running things.
"Governor Perry is the perfect example that we in New York should be looking to," he said.
"At a time when New York ranks at or near the bottom among states in every important metric, Texas is leading the way.  By focusing on keeping taxes low and fostering a fair legal and regulatory environment, Governor Perry has helped Texas attract business and residents at a time when New York has been hemorrhaging both.  As a result, Texas will gain four seats during next year's congressional reapportionment when New York will lose two."
The release also includes praise for Isaacs from New York State G.O.P. chairman Ed Cox, which is noteworthy because Isaacs has been mentioned as a potential challenger to Cox when his term ends later this year.
Said Cox, who is also serving as a speaker at the event, "Governor Perry's attendance at the New York County Republican Dinner proves that New York is still the center of the universe, for politics and otherwise.  I congratulate Dan for bringing him to New York and look forward to helping him give Governor Perry a rousing welcome to the Big Apple."
Perry has been flirting with a presidential run for awhile, and has recently sent particularly strong signals that he will jump into what is widely regarded as a weak Republican field.