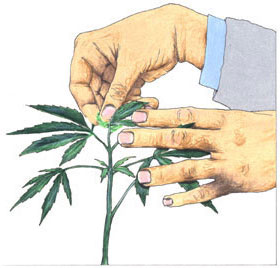 Ricardo Cortés writes and illustrates children's books. "I wrote a kid's book on marijuana," he said. It's Just a Plant, written in 2005, consequently earned Mr. Cortés a televised condemnation on The O'Reilly Factor.
He also co-wrote and illustrated I Don't Want to Blow You Up!, "a coloring book about terrorism," featuring portraits of famous Muslims who "don't want to blow you up."
Mr. Cortés recently achieved fame with his illustrations for the picture book: Go the F**k to Sleep, which is currently the number one bestseller on Amazon.com. But that doesn't mean he's forsaking civic engagement for wry bedtime stories.
Mr. Cortés's next project (bankrolled partly by a $2,000 grant from the Department of Cultural Affairs' Greater New York Arts Development fund) is a self-published illustrated booklet called Jury Independence Illustrated. Its purpose? To inform potential jurors about their ability to nullify a case–that is, their power to acquit someone not based on evidence, but because the juror thinks the law is wrong.
"So when should this special power be used?" the booklet asks. "In all drug cases."
While admitting that nullification is a tactic also advocated by white supremacists–"There are also some gray areas where it might be applied"–he described it as "a tool against the drug war" and "a form of civil disobedience."
He's currently raising funds to publish 3,000 copies of the book, which he intends to hand out near the Brooklyn Criminal Court in June. He might get arrested, as someone in Manhattan recently was for a similar action.
"So long as he's not targeting jurors sitting on a pending case, he has a First Amendment right," said Christopher Dunn, associate legal director of the New York Civil Liberties Union. "But people get arrested all the time for doing things they're allowed to do."
The Brooklyn Arts Council, which administered Mr. Cortés's grant from the State, declined to comment on his plan.
"I'm going to start right at the courthouse and see how far I can get," said Mr. Cortés.