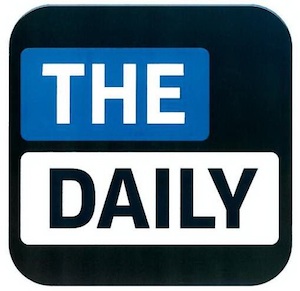 Since its launch three months ago, the goings-on at tablet newspaper The Daily have been kept tightly under wraps by News Corp's–not to mention Apple's–trademark wall of secrecy and non-disclosure agreements. WWD's profile of Jesse Angelo appears to be the only Daily story for which a reporter was granted access, and little else has leaked beyond low-level staff departures.
With one major exception: the earnest memo from editor Mr. Angelo urging reporters to find more unique stories like "the oldest dog in America" and "the richest man in South Dakota," obtained by New York magazine, which became an object of ridicule for media fans and Stephen Colbert.
The breach led to rumors that e-mails were tracked and that a Daily reporter had been dismissed on suspicion of having sprung the leak.
But the next month came another sunny if grammatically questionable note from Mr. Angelo:
"Thanks to the night/morning crew Thursday into Friday who first started working on the Tsunami , we were able to have the amazing images on the front page at 6am – a full 24-hours ahead of print competitors and right in synch with digital competitors. […] And let's not forget sports doing a great job for Saturday on the breaking story of the NFL strike, as well as the cool 360 of the Apple store and the video shot on the ipad2 (great idea, Dan)."
This one ended with a cryptically joking postscript: "We are tracking this email in realtime so if you forward it from your email box to Mr. Colbert we will know!!! And you will be in big trouble."
Hip marketing consultants the Barbarian Group began working for The Daily and, although they declined to comment on the details, it suggests things might be loosening up a little.
Last week, The Daily held a town hall meeting to deliver some good news to employees about promising sales figures. Someone said staffers even went out drinking afterward. It appeared to be a perfectly orchestrated intentional leak scenario. Yet almost a week later, the presentation's content is still unreported.
Off the Record called publisher Greg Clayman to give him an opportunity to deliver the good news himself. He politely referred us to The Daily's communications team.
kstoeffel@observer.com