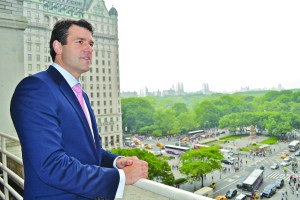 Ted Koltis had only been on the job for two months at the Paramount Group when he helped debut a novel real estate tool that, chances are, competitors will be duplicating in the very near future: a free iPad app with detailed specs for 12 million square feet of the company's office portfolio. Where before tenants were handed brochures for merely the properties they toured, now they can gauge the entire portfolio with only the simple sweep of a finger.
"It used to be that you'd hand out the papers or some kind of tour book, but now we conduct all our tours with an iPad," said Mr. Koltis, who estimated that Paramount now has six slates on hand for its agents to bring on tours.
He credits the application with a deal in April involving a financial services firm that, during a walking tour of five Paramount buildings, was eventually drawn to space at 745 Fifth Avenue-an asset not included in the itinerary.
"You're always trying to gather more information about the requirements and what they're specifically looking for," said Mr. Koltis, 42. "And if certain things click you may think of another space in a different building that you have, but that maybe wasn't on their tour lists. And so in the meantime, you can pull that plan up right away, show them that plan, and even email it right there as you're standing with them."
The innovation is merely one example of how the former Insignia/ESG and Tishman Speyer leasing veteran has made waves in a short amount of time. Indeed, since joining Paramount as its leasing director in January, the broker has been at the helm of what expects to be a momentous leasing surge all across the company's portfolio.
During the same time, the Paramount Group wrestled total control of 1633 Broadway, the group's headquarters building, where, until late April, a joint venture between Morgan Stanley and Merrill Lynch held a 49 percent stake. The partnership's decision to sell its stake to Paramount, as opposed to an outside party, will now allow the firm to resell another non-controlling stake in the asset in a transaction that could include an equity buy and assumption of part of the building's first mortgage.
In order to entice potential investors, however, Paramount and Mr. Koltis will need to increase leasing at the 2.4 million-square-foot building, which "is probably our biggest vacancy—or, we should say, availability—right now." As such, the renovation of its granite lobby is expected to begin in early fall, with the Philips Group as its architect. Currently, he said, 250,000 square feet of space is available near the base.
"We're now 100 percent owners of this building, but that's all I should really say about that," said Mr. Koltis, when asked about the future investment strategy at the 40-year-old tower. "Up until now, we've probably bought and sold pieces of this three times over."
Sixteen-thirty-three Broadway has been but one priority of late for Mr. Koltis.
In April, he inked a 9,000-square-foot transaction at 712 Fifth Avenue with the Vector Group, which owns stakes in a tobacco company and real estate firm Prudential Douglas Elliman. The group renewed for seven more years at the Paramount-owned boutique office building. And while he refused to confirm Vector as the tenant (The Observer got that from elsewhere), Mr. Koltis said last week that the $135 per square foot the tenant paid ranks high among office leases inked this year.
"There's been other numbers now that are even higher, and we're now asking close to $150 for space in that building right now," he said. "But at the time, I think, it was one of the biggest."
Meanwhile, Mr. Koltis wasted no time in inking a deal in February, less than a month after joining Paramount, with the law practice Davies Ward Phillips & Vineberg. The firm signed a 10-year lease for 18,245 square feet at 900 Third Avenue on the Upper East Side. At $61 per square foot, the transaction was also among the priciest leases to have been signed on Third Avenue since the early 2000s.
"It was one of the first deals done for over $60 on Third Avenue since at least 2008, if not earlier," Mr. Koltis said. "That's another kind of story of a broker who, I think, we have a really good relationship with, and who we think very highly of. That's another one where we changed the market."
WITH A WIFE and two sons, a love of skiing and, as he calls them, "a big fat Greek family," the Westchester resident is perhaps just as busy outside of work as he is while at the office. Still, he said, he has ambitious goals for his tenure at Paramount, which, to be blunt, is nothing short of the Germany-based firm's rebirth as one New York City's premier landlord.
"My real goal is we want to be the first phone call," Mr. Koltis said. "When a broker wins a piece of business, I want Paramount to be their first phone call-whether New York or Washington, D.C., or San Francisco.
"I want that to be out there: We're very much open for business."
jsederstrom@observer.com