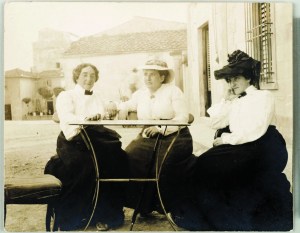 Today, art fairs bring the international avant-garde to every urban doorstep, but collectors once had to track it down for themselves. In the early 20th century, when Gertrude Stein wrote, "You can be a museum or you can be modern, but you can't be both," two sisters from Baltimore, Claribel and Etta Cone, amassed one of the best contemporary art collections in the United States. Some of their pieces are on view in a show at the Jewish Museum that tells us not just what the two women collected, but who they were.
Claribel was a doctor 20 years before American women could vote; she wrote passionately about the beauty to be found under a microscope. Etta, six years younger, had high school French and a taste for painting. Both favored black dresses worn with chunky pins and Belgian lace collars, the sensible garb of women who traveled easily between the laboratory and the salon. Stein wrote the poem "Two Women" about the Cones: "There were two of them, they were sisters, they were large women, they were rich."
These women arrived in Paris in time for the 1905 art exhibition the Salon d'Automne. They rented an apartment around the corner from Stein and her brother Leo, who were family friends, and accompanied the poet to Matisse's studio, where Stein bought his Woman With a Hat. Much ridiculed at the Salon, it was one of the pictures that got Matisse dubbed a "fauve," or wild colorist. (Etta chose his more traditional still life Yellow Pottery From Provence.) They followed Stein to portrait sittings at Picasso's Montmartre studio.
At 41 and 35, the sisters were just beginning their lives abroad when Baltimore society might have considered them spinsters. Receipts show money spent on cabs, Cézanne lithographs, and flowers for Stein. There were personal intrigues: that Stein dumped Etta to take up with Alice B. Toklas seems likely.
From Paris, they made a trip around the world–Budapest, Athens, Cairo, Shanghai–collecting ivory bangles, Buddhist figurines, Turkish mosque tiles and Indian silk scarves. Such items were not the finest of the Cone purchases, but they added notes of exoticism to art-filled apartments.
On their second trip to Paris, in 1922, the Cones had greater buying power. Their brothers' cotton mills made cloth for the U.S. military during the First World War and became the largest supplier of denim to Levi Strauss. Such was their wealth that when they went to the opera, they bought an extra seat on which to rest that day's purchases. They shipped home seven crates of art, and Claribel hired three staterooms for herself and her luggage. Upon her arrival in Baltimore, she was forced to take on a second apartment; her art had literally crowded her out.
If their taste was decorative–Etta's favorite of her Matisses was Interior, Flowers and Parakeets, a lushly patterned interior–and sometimes slight, it had the key qualities of deep pockets and unflinching commitment to the right artists. Between them, the Cones eventually acquired 500 works by Matisse and over 100 by Picasso. And they took risks: at a time when women collectors favored still lifes and landscapes, they didn't shy away from sensual nudes. The best of these are by Matisse: Standing Odalisque Reflected in a Mirror, Two Negresses (their arms intertwined) and the bronze Reclining Nude III. Delacroix's painting Perseus and Andromeda, purchased from the Steins, is typical of the Cones' unconventional eroticism, the naked princess chained to a rock being one of the racier subjects in Greek mythology.
Etta became the keeper of the sisters' treasures after Claribel died in Lausanne at age 64–not before buying a Courbet landscape earlier that day. Their art was beginning to gain institutional acceptance: this was 1929, the year the Museum of Modern Art was founded. For the next 20 years, Etta maintained Claribel's apartment and one of America's finest collections of modern art. Her fortune grew through the Great Depression, and Etta's purchases after 1930 were made with the idea that the collection would ultimately become a gift to the Baltimore Museum of Art. Accordingly, her taste became bolder. Among her acquisitions were Women of the Mango (Vahine no te vi), an iconic 1892 Gauguin, and Matisse's Large Reclining Nude of 1935. The nude's body is a smooth melon-pink against a background of blue tiles; the painting points to a geometric abstraction the sisters never fully embraced.
We now see the Cones above all as prescient collectors, but you get the sense that they were searching, in their travels, for freedom from the narrow roles they might have inhabited back home. Collecting transformed the Cone women from mothers and wives manquée to connoisseurs of radical art; they remade themselves as patrons who found meaning and left a legacy in their relationships with Matisse and Stein. From Baltimore to the Bateau-Lavoir, the Cone sisters found an exhilarating escape; we're lucky to have their souvenirs.
editorial@observer.com