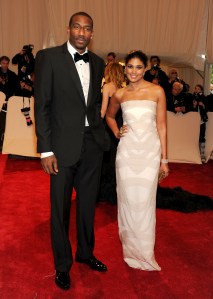 Wednesday, May 18
Arty Party
Most creative types have ambivalent memories of recess. While a respite from the strictures of the classroom were nice, the humiliations of dodgeball and other childrens' "games" were for many the anvil on which a future of creative genius was hammered. But, hey, we're past that now! Recess Activities is an organization formed two years ago to support emerging artists by giving them a space to play (in Soho, which used to be crawling with them). The group's annual benefit is tonight. Cinematic delinquent Harmony Korine will be on hand, as well punk provocateur Terence Koh and resin virtuoso Dustin Yellin.
Tribeca Grand Hotel, 2 Avenue of the Americas, 9pm, visit recessart.org for tickets.
Thursday, May 19
Knicker in a Twist
Here's hoping the Public Theater's new LAB production, Knickerbocker, which opens tonight, is less of a tragedy than the show put on last season by the basketball-playing Knickerbockers (they don't make enough Kleenex for that). Expected attendees include Sarah Jessica Parker (the director's her brother–not that she wouldn't drop by anyway!), the indefatigable Angela Lansbury, Julianna Margulies and pencil-mustachioed Darren Aronofsky, no doubt contemplating a terrifying, psychologically tense film adaptation of the play, which is about a man's adjustment to fatherhood… We're always down for a media party–language barrier or no! People en Espanol fêtes its fifty most beautiful people tonight in one of those cavernous event spaces in Midtown East. Interesting side-note: Somehow the mag didn't find space for Jennifer Lopez, who graces the cover of sister mag People en Ingles's most-beautiful issue! So, who is the hottest Latina? Alejandra Guzmán. (¿Quién es?)
Knickerbocker opening night, The Public Theater, 425 Lafayette Street, begins at 8pm, party to follow at Knickerbocker Bar and Grill at 9:30pm, private event; People en Espanol party, Guastavino's, 409 East 59th Street, private event
Friday, May 20
French Roast
Woody Allen's latest movie, Midnight in Paris, premiered in Cannes this month to respectful, if not exactly rapturous, reviews. But die-hard Woody fans (we know who we are) have been programmed by years of Pavlovian training to show up at the art-house year after year no matter what those silly critics say. (And we thought his last trip to the City of Lights, Everyone Says I Love You, was just charming.) In this flick, Owen Wilson falls down a rabbit hole into Jazz Age Paris, when the city was romantic and spellbinding, just like it is in the movies! The cast also includes Rachel McAdams, Marion Cotillard and Carla Bruni, taking a break from her day job as the hottest piece of diplomatic arm candy this side of the Seine.
Midnight in Paris, check theater listings for showtimes.
Saturday, May 21
Cirque-us of the Stars
How to Make It in America may not be making much of an impact for HBO, but star Bryan Greenberg isn't letting that deter him from putting his newly minted star power to use. Today, he hosts a brunch at Le Cirque on behalf of Olevolos Project, an organization that recently founded a school and other institutions in an impoverished village in Tanzania. He roped in HBO, as well as actress Lake Bell, former Drew Barrymore paramour Justin Long and the ageless Gina Gershon. Good for him! A silent auction will include such goodies as a visit to the set of, yes, How to Make It in America (though if you're a resident of the Lower East Side, you've already been there, done that).
Le Cirque, 150 East 58th Street, 1pm, visit theolevolosproject.org for tickets.
Sunday, May 22
Dine Out on Art
Jim Dine is best known for pop art–sculptures of big black valentine-hearts, paintings of hippie-colored robes. His work even inspired the title of the musical Hair! (Mr. Dine's Hair is a painting of hair–and it's at the Met.) Mr. Dine's later work, though, took a turn for the Classical, as the artist fell under the influence of the Greek and Roman sculpture he encountered at the Glyptothek Museum in Munich. His 1980s drawings inspired by the ancient masters are currently on display at the Morgan Library, and today, Mr. Dine meets National Gallery curator Ruth Fine for a discussion of his work. The Fine-Dine tete-a-tete promises to reveal just how the Papa of Neo-Dada got interested in old, dusty stuff–and whether he's still interested in it! Mr. Dine's more recent work includes wooden sculptures of Pinocchio–no doubt, he studied the Greeks to get the contrapposto just right.
Morgan Library, 225 Madison Avenue, 3pm, visit themorgan.org for information
Monday, May 23
Gross Indecency
NPR's Terry Gross, who's interviewed just about everyone but never in person (it's her thing!) is emerging from her Philadelphia studio for some "fresh air" (get it?) tonight, as guest of honor at the Authors Guild Dinner, where John Lithgow will present her with a trophy for her years of work but mostly for making Gene Simmons look like a putz. It will be interesting to see how she handles being out in pubic! If you must congratulate her, use extreme caution…. Also tonight, the New York Public Library holds its Centennial Gala, celebrating 100 years of providing New Yorkers with free porn and other literary materials. The site is the Stephen A. Schwarzman Building (yes, that's what they're now calling the Fifth Avenue branch with the big columns and Winnie the Pooh), and the event will be cocharied by the Schwarzmans themselves–which isn't nearly as self-serving a move as it sounds.
Authors Guild Dinner, Edison Ballroom, 240 West 47th Street, cocktails at 6:30, dinner and award presentation begin at 7:30, private event; NYPL Centennial Gala, private reception for trustees and "special friends" at 6:30, rededication ceremony in Adam Raphael Rose Main Reading Room at 7pm, dinner and dancing to follow, sold out.
Tuesday, May 24
Outsider Art
It's a tale as old as time: An athlete comes to New York, and is transformed overnight into a divo metrosexual. Call it "pulling a Namath." Following in the well-shod footsteps of Sean Avery, hockey player and part-time Vogue intern (hope he got academic credit!) is Amar'e Stoudemire, the New York Knick who in the off-season now rolls with Anna Wintour. Tonight, along with jewelry designer Eddie Borgo and art-world Zelig-ette Shala Monroque, Mr. Stoudemire presents a glitzy auction at the Whitney Art Party. The host committee includes a rogues' gallery of New York society, from Lisa Airan to Fabiola Beracasa to, later in the alphabet, Rachel Roy and Lauren Santo Domingo. There are far worse ways for Mr. Stoudemire to get acclimated to New York, but we'll avoid asking any of his new best friends what they thought of the Knicks' last season or what position Mr. Stoudemire plays.
Highline Stages, 440 West 15th Street, auction preview and reception, 8pm-9pm, party from 9pm-1am, visit whitneyartparty.org for tickets.
Wednesday, May 25
Bookish Breakfast
The NYPL centennial is all well and good, but here come the booksellers, who'd rather we buy than borrow! This morning's BookExpo America festivities include a breakfast featuring Diane Keaton, discussing her forthcoming memoir (forget the years with Woody–we hope she writes about where she buys her suits). Other speakers hyping their new tomes at today's breakfast are Pulitzer laureate Jeffrey Eugenides (who finally has another book out–drop everything!) and Charlaine Harris, who wrote about vampires before they were cool. The master of ceremonies is the comedian and Office star Mindy Kaling, who's promoting a book of her own (something more like Tina Fey's Bossypants, we hope, than Snooki's A Shore Thing). The event is open to conference attendees only, so if you don't have credentials, you might want to open a bookstore immediately.
Javits Center, 655 West 34th Street, Special Events Hall, 8am-9:30am.
ddaddario@observer.com :: @DPD_