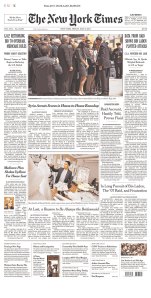 President Obama's visit to Ground Zero yesterday was the image that led newspapers front pages in New York and around the country. The coverage decisions were complicated slightly by reports yesterday that Osama bin Laden had been plotting a new attack on Ground Zero in time for the 10th anniversary of 9/11 attacks.
The New York Times puts the image of Obama at Ground Zero above the fold, and right next to their lead news column about the Bin Laden plot. The tabloids, playing the cycle more somber than alarmed, dedicate their front pages to Obama's visit, and relegated the would-be plot to second position.
Newsday, which took a respite from front-page Obama news yesterday, is back, with 20-page coverage of the president's visit to New York City. (And their under-played story yesterday by Mike Amon about letters from the White House addressed to "Dear 9/11 Family Member" got more notice elswhere.)
Most of the major broadsheets around the state — Wall Street Journal, Times Union, Buffalo News, Democrat and Chronicle, Staten Island Advance, Post-Standard and Journal News — all put Obama above the fold.
Click the photo above for a quick tour of the front pages from across the state.