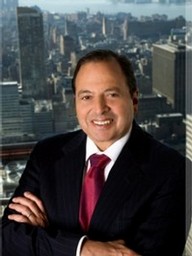 How will the Dursts contain their excitement this week? A scant 36 hours after we crowned Messrs. Douglas and Jody the kings of New York real estate, we learn that they've signed 22,000 square feet of new leases.
Yes, dear reader, the home of the national debt clock at 1133 Sixth Avenue has one new tenant and two renewing ones. Compensation Advisory Partners, which provides advice on executive compensation packages (a service we can imagine is much in demand these days), has taken 5,976 square feet for six years on the 36th floor. The asking rent was $75 a foot. Cushman and Wakefield's Andrew Ross represented the tenant and Karen Akbarzadeh repped the landlord in-house.
On the 15th floor, law firm Patterson Belknap Webb & Tyler did a 10,800 square foot renewal for three years and seven months. Studley's Ira Schuman repped the tenants; Tom Bow repped the landlord in house.
On the 31st Floor, investment advisors Klingman and Associates took 5,443 square feet in a seven-year renewal. They repped themselves and John Grotto Jr. represented the landlord in-house.
With all this excitement, plus news that the national debt clock is still ticking, Douglas Durst must be doing a jig somewhere in his bright green socks.
lkusisto@observer.com