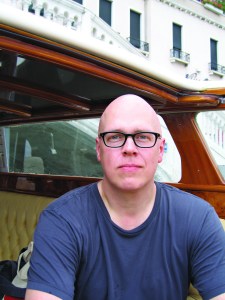 When La Monte Young performed with the Forever Blues Band at the Kitchen in 1993, he played a two-hour set without stopping. The song–more of a movement–was "Young's Dorian Blues in G," composed of the familiar 12-bar chord progression of the titular genre, beaten into nonrecognition through Young's strange tunings and the resonance of his Korg synthesizer playing against the electric guitars of Jon and Brad Catler. Reviews described the trancelike state of the audience after the monotony–eventually transcending to a hypnotic groove–of a chromatic scale played for so long with few, if any, changes to structure. Incense was burning. Young looked like some villainous biker from a postapocalyptic film, his stringy white beard hanging in knots past his chin, a black bandana covering the top of his head. He was seated and hunched over his keyboard wearing a torn black-denim vest. The room was lit pink.
Tim Griffin, the former editor-in-chief of Artforum magazine who will take over as director and chief curator of the Kitchen in September, was in the audience, awestruck. At the time he was working on his MFA in poetry at Bard, where he was receiving a more or less comprehensive education in the arts, studying not only with Lydia Davis, but also with Yvonne Rainer. He was on a self-proclaimed "La Monte Young tour." He takes the art world as seriously as he takes criticism and he does not see taste and discourse as mutually exclusive. Mr. Griffin left Artforum last summer and was replaced by senior editor Michele Kuo; his reason for leaving, he said at the time, was to "devote more energy to writing and teaching" (he told The Observer, in a reflection of his seriousness, he "was afraid [he] was going to start repeating himself"). There is talk, which he won't confirm, that he's at work on a book. At the magazine, Mr. Griffin focused on the intersection of art and politics during the Iraq war, while at the same time questioning the usefulness of such conversations. He once devoted nearly an entire issue to Slavoj Zizek. He sees becoming a curator for the first time, at a venue as celebrated as the Kitchen, as a logical extension of being an editor. People tend to agree that he is the shot in the arm the venue needs to reinstate its international reputation. 
"I did really think about the editing of that publication in terms of curating," he said. "You wanted to assemble groups of essays and projects that would reflect on each other and begin to generate greater meaning than their individual parts. In fact, in the magazine, one of the questions I was always aware of was, how do you make certain that the issues around art have meaning for people? Almost in an existential way. How does it make you resee the world that you're in? That's a task for the arts as well."
The Observer met Mr. Griffin, who is 41 and married to Johanna Burton, the director of the Center for Curatorial Studies at Bard, on a damp, gloomy day. He is a large, pale man, with a bald pate–his face is boyish nonetheless–and the kind of thick, plastic glasses one expects a magazine editor to wear. He was dressed predominantly in black. His face is stern, reflecting his shy and serious demeanor. He had a reputation at Artforum of shutting the door to his office, which was famously so filled with books that it was nearly impossible to sit inside of it, and drawing the blinds. He and his staff would work 10 to 12 hour days, sometimes more. He was editor-in-chief for seven years, which, as one of his fellow editors has said, "has a nice biblical ring to it." He often talks in the second person, slightly drawing attention away from himself, and asks rhetorical questions. 
"The real question is, can you have a public sphere?" he said after The Observer asked him about the marked increase in political interest at Artforum during his time there. "Can you have a community that has meaningful dialogues about art and has some exchange thinking through the arts in counterpoint with developments of culture at large? My hope is: yes! So at an institution like the Kitchen, you're trying to create a place where there are dialogues among artists. Some of those already exist and you try to act as a catalyst, and you make connections. Because you have to ask questions that other people might not have asked."
The Kitchen started in 1971 as a video collective, founded by Woody and Steina Vasulka, in the unused kitchen of the Broadway Central Hotel. It moved in 1974 to a loft at 484 Broome Street after the 400-room hotel collapsed, killing four people. That the Kitchen's old Broome Street residence in SoHo is now home to an expensive chocolatier and a luxury day spa is a sign, perhaps, that history was always working against the venue, which in the early days of multimedia art was called "an avant-garde space," seemingly for lack of a better term, and frequently written up in The Times in articles with charmingly dated headlines like "New Arts Flourish in New Spaces" and "Mainstream Catches Avant-Garde." Steve Reich, the father of minimalist music, met his wife, the video artist Beryl Korot, there. A teenager named Rhys Chatham was the venue's first music director. It typified the downtown scene and was the epicenter of media and performance art, the only place where one could see Eric Bogosian perform a vaudevillian one-man show on a Tuesday, then the next night watch the premiere of Glenn Branca's latest symphony, likely with members of the same rock band he'd play with at the Mudd Club the following week. 
"It was this moving feast of artists and thinkers dreaming up the next intriguing evening," said RoseLee Goldberg, the founder of the performance art biennial Performa and the curator at the Kitchen in the late 70's. "People would start at the Broome Street Bar for a lunchtime burger, then cross over to the Kitchen in the evening, and then move on to the Mudd Clubb or CBGB's or Puffy's. We were always en route to somewhere else."
When he takes over at the end of the summer, Mr. Griffin will inherit a great deal of history, but Artforum, considered by many to be the contemporary art world's magazine of record, is no less storied (the 1974 photograph of a naked Lynda Benglis holding a flesh-color dildo, which eventually led to Rosalind Krauss and Annette Michelson's founding October magazine, is now New York folklore). Mr. Griffin arrived with an ambitious agenda. During the financial boom, when he was editor, Artforum had more ads than ever, to the extent that they had to be sifted through in order to find the articles. His inaugural editor's letter in the October 2003 issue reads like a manifesto. He introduced the tech column ("Steven Shaviro explores the ramifications of the new medium of the moblog vis-a-vis photography's relationship to the indexical") and mentioned, with no small amount of significance, Artforum's "renewed commitment to artists' writing," as well as foreshadowed his interest in poststructuralist discussions of "criticality," or, in crude terms, criticism about criticism, a practice made popular by Roland Barthes and a favorite term of Griffin's. He opens the letter with a Barthesian quote from the sculptor Haim Steinbach claiming that in the 80's "there was no discourse" and goes on to reference an image from Jean Genet about Japanese vase makers who, "on encountering a flaw in the object before them, allow their work to both emanate and evolve from that imperfection." The description is perfect for what Mr. Griffin is getting himself into in his new job. Even Ms. Goldberg, who still thinks of the Kitchen as "one of [her] babies," says that the space has had lulls when it could have been more adventurous. One critic told me "it's been in the backwater for a long time," though Ms. Goldberg was kinder: "The world has caught up with the Kitchen." The past seven years, with Debra Singer at the helm as director, have helped because of Ms. Singer's collaborations with Performa and ambitious showcases that were both history lesson and culmination of the Kitchen's interdisciplinary leanings, like 2007's "Between Thought and Sound: Graphic Notation in Contemporary Music."