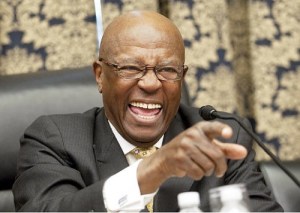 The unlikely face-off for a district leader spot between a sitting senior Congressman and a longtime Councilmember will be decided next weekend.
Both Congressman Ed Towns, a 15-term congressman from Central Brooklyn, and Erik Martin Dilan, a nine-year veteran of the City Council, will stand before Brooklyn's district leaders May 18 at the Stars and Stripes Democratic Club in Bensonhurst.
The seat became available when Towns' son, Darryl Towns, took a job as Andrew Cuomo's housing czar.
Several politicos in Brooklyn said that they could not recall the last time there was a competitive challenge for a mid-term vacant District Leader seat, which are unpaid, intra-party positions frequently coveted by striving up-and-comers hoping to gain a foothold in elected office.
Deference is typically given in these situations to the remaining co-leader in the assembly district. In this case, the female district leader happens to be Dilan's wife, Jannitza. However, the question ultimately will be put to a vote and decided upon by the 41 remaining district leaders, plus the 11 at-large members appointed by Brooklyn Democratic party head Vito Lopez.
According to sources, Towns has been sending out letters over the last couple of weeks to members of the executive committee soliciting support.