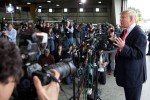 Last month, Manhattan Republican Party chairman Dan Isaacs complained to The New York Post that Donald Trump had blown off his requests to have the tycoon keynote his organization's annual Lincoln Day Dinner.
Almost as soon as the piece hit news stands Trump was on the phone with Isaacs, apologizing for his office's tardiness and pledging to do the dinner, scheduled for June 14, Isaacs told The Observer.
And today, almost as soon as Trump announced that he would not in fact be a candidate for president, his office reached out to Isaacs again to explain that Trump would also be dropping out of his plans to speak at their banquet.
"I am unbelievably disappointed. He has put us in an awkward position," Isaacs said.
Isaacs said that they have already sent out invitations and that dozens of local party supporters have RSVP'd with the understanding that Trump would be there.
Isaacs said that Trump's office told him that they do not believe The Apprentice star's appearance would have been appropriate since he is no longer a candidate.
Issacs said they would have wanted him to come anyway.
"We would have liked to have heard what he had to say, regardless of whether or not he is a candidate," he said.
Earlier today, the Iowa Republican Party said that they believed that Trump was "reassessing his commitment" to headline their own Lincoln Day fundraising dinner.
The Manhattan G.O.P. has no plans to refund tickets, Isaacs said, noting that Westchester County Executive Rob Astorino and financial commentator Steven B. Meister are also slated to speak.
But he added that Trump can no longer expect a welcoming from his local Republican Party.
"Three-and-a-half weeks out and he is cancelling on us? Not done. Not the way you do things. I would have hoped that he would have honored his commitment to us. He will certainly never get an invitation from my committee to speak to us again."
Mr. Trump's office declined comment.
[Noted: Donald Trump is the father-in-law of Observer publisher Jared Kushner.]