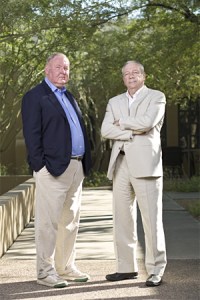 Village Voice Media Executive Editor Michael Lacey declined to be interviewed for our story on his company last week, "Village Voice Media Getting Down and Dirty with Escort Ads," but he wrote us yesterday to submit a few corrections and provide a counternarrative. The full letter is linked below.
On one point, a correction is in order: We called Mr. Lacey CEO of Village Voice Media. Despite co-founding New Times with the current CEO Jim Larkin, his title is actually executive editor. The post has been updated with the correct title.
Many of his other points deal with topics beyond the scope of our article, which focused on the company's lucrative classified advertising site, Backpage.com; its publication of escort ads that in some cases have allegedly involved child prostitution and human trafficking; its increasing importance to Village Voice Media's bottom line, and the apparent exploitation of the Voice's legendarily independent reporting as a tool with which to defend the business strategy.
His letter does not directly address those issues, however it makes for interesting reading.
editorial@observer.com