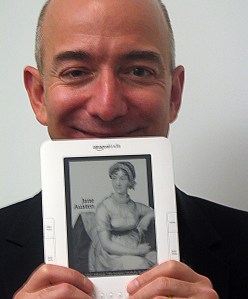 Amazon continues its inexorable expansion into book publishing with Thomas & Mercer, a mystery and thriller imprint that brings Amazon's total number of imprints to five, with onlookers expecting more to come. Thomas & Mercer is "named for streets that flank the Amazon headquarters in Seattle," a West Coast emphasis perhaps intended to deflect the stink eye from New York publishing while simultaneously provoking fears that Amazon will take over Soho.
The announcement comes only two weeks after the debut of Amazon's Montlake Romance, which "takes its name from the central Seattle neighborhood of Montlake" (where Mr. Darcy-types roam the streets on white stallions?) Hopefully any potential sci-fi imprint will reference the Space Needle.
Genre fiction today; tomorrow, the world.