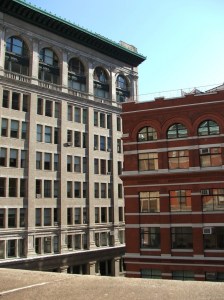 The Times Real Estate section had dueling stories from the the most expensive–and acronymed!–neighborhoods on each side of the East River this weekend. So here is a quiz. Which newly tony hood said what? (Hint: both have Belgian block, the Gray Lady reports, but only one has extinct railroad tracks.)
Loftopia A:
Pier 25, public parkland jutting into the river near North XXX Street, began a phased reopening last November after a renovation. […] But for some who recall this new pier's funky predecessor, with its hamburger stand and its mini-golf course made by an artist and children out of recycled garbage, there lingers the sense that something homegrown and unique to TriBeCa has been scrubbed away. "It's lost its organic feel," said Ms. Hardinger, who has lived in the neighborhood since the 1970s. "And in its place it has swings and toys that are industrially produced."
Loftopia B:
And the waterfront has once again become a destination–not just for commerce, but also for recreation, with the expansion of XXX Bridge Park. Longtime residents have mixed reactions to the changes. "It was cool in the '80s," said Doreen Gallo, the executive director of the XXX Neighborhood Alliance, a residents' group. "It was very cool in the '90s." Now, she said, "it's different."
Answers: A is the Land of the $800 Stroller, B is the valley of the techno trolls (because they live under two bridges).