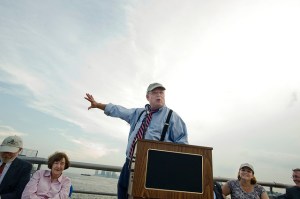 Andrew Cuomo said he won't force a vote on legalizing same-sex marriage unless the votes are there to pass it.
State Senator Tom Duane of Manhattan, who is openly gay, said it doesn't appear that they are.
"We need to have a public commitment to vote yes on the part of Republican senators. And that is the primary goal of all of our efforts," Duane said in an interview this afternoon. "Without it, we know what the results will be."
"You know, fool me once, shame on you. Fool me twice, shame on us," he said.
Same-sex marriage was voted down in the State Senate in 2009, 38-24. Duane said support for the issue has grown, among voters and lawmakers, but also said seeing the bill fail "was terrible."