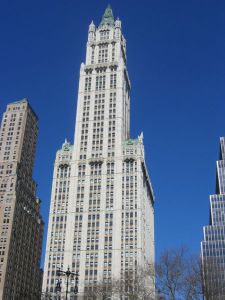 Would Steve Witkoff make up his mind already? The pistol-packing, Bronx-bootstrapping developer has been juggling the Terracotta crown jewel of his empire since he bought it in 1998 for $138 million. Two years later, he announced plans for grandiose condos atop the Gilded Age tower, but that was delayed by 9/11. In 2007, he shifted back to offices, albeit boutique spaces for hedge funds. Now, the Post reports, apartments are back at the Woolworth Building, or maybe a hotel.
Permits to relocate stairways and elevators on the 30th through 47th floors were partially approved in 2007, but the permits for the entire $6 million job were finalized with the city's Buildings Dept. on May 2.

"Now, we are spending all the money necessary to do all the systems," Witkoff said. The building is already divided into an "upper" and a "lower" condo. City records show a mortgage on the upper portion was made by Hypo Real Estate Capital a year ago for $9.7 million.

While Witkoff declined to get into a "name game," he noted, "We've had a lot of people come to us to do hotels." But the owners are also deciding whether or not they should do it themselves as rentals because the after-tax basis "is better."
After it opened in 1913, Cass Gilbert's gorgeously Gothic coppertop was dubbed "the Cathedral of Commerce," and for 17 years it stood as the tallest building in the world. It went to seed along with the company that gave it its name, but Mr. Witkoff has done much to turn it around, creating a Silicon Alley haven during the first boom. Even two years ago, at the height of the recession, Bloomberg reported the building was 99 percent occupied. That was when an Italian investor was looking to take a controlling stake, with an eye toward hotels.
At the dawn of the last decade, when the condo plans were first being hatched, The Observer went inside the Woolworth, then a "salt of the earth" kind of place still full of barbers and shopworn offices:
Now, Mr. Witkoff's team of architects are drawing plans to convert the building's 30-story crenolined tower into apartments with majestic views, and surely just-as-majestic price tags. The crowning piece of the $20 million project, as conceived, will be a penthouse triplex with access, via an antique glass elevator, to the building's long-closed observation deck.

Tinkering with architect Cass Gilbert's masterpiece is not something Mr. Witkoff and his associates are undertaking lightly.

"This is a building that, when it was done in 1913, became the symbol not only for New York but for the world of what a skyscraper should be," said Roger Duffy, a partner at the architectural firm Skidmore, Owings and Merrill, who is working on the project.

[…]

Mr. Witkoff declined to elaborate on plans for the building's conversion. But Costas Kondylis, a residential architect working on the project, said some floors, which run from 4,000 to 5,000 square feet, might be marketed as single apartments. All the floors-as insisted by Mr. Woolworth-have high ceilings, up to 19 feet.

Whoever buys the 5,000 square-foot top-floor triplex will get exclusive use of a four-foot wide observation deck that rings the pyramid-shaped crown of the building.

There are plans for a spa and a small movie theater, to attract film industry buyers, downstairs. Mr. Landstrom, the manager, said apartments would also be marketed toward Silicon Alley millionaires.
It seems the biggest challenge facing Mr. Witkoff now is competition. The recent boom has seen the former sentinel surrounded on all sides. Frank Gehry's rippling wonder and the dodgy Barclay Tower by Costas Kondylis have already stormed the horizon, and Larry Silverstein and Robert A.M. Stern are still trying to get their Four Seasons off the ground. Is there room, then, for this old gray mare with her emerald crown?