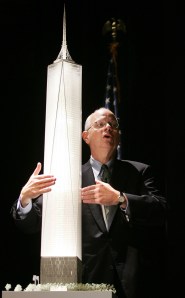 The Post's incomparable Steve Cuozzo (No. 100 on our just-released Power 100 list) got ahold of David Childs, the SOM architect responsible for the five-year-old 7 WTC and the halfway-there 1 WTC, to get his thoughts on the assassinated head of Al Queda. The Princeton-native, Yale-trained designer had some strong words for Osama Bin Laden:
Asked yesterday what was going through his mind, Childs wasn't weighing his words. He might have spoken for millions when he told us that bringing bin Laden to justice "vindicates all the work we're doing in rebuilding. It's going to be better than ever and this evil monster is gone."
With Bin Laden gone, maybe it won't be so hard to find new tenants anymore.