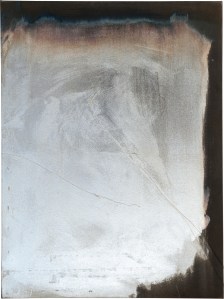 What a difference a season makes!
In November, during the last round of major contemporary art auctions in New York, a silver-surfaced painting by a little-known — at least to the art world's upper level cognoscenti — 27 year old artist named Jacob Kassay came up for sale at Phillips de Pury & Co. The painting carried a pre-sale estimate of $6,000-8,000, and soared to a mind-boggling $86,500, selling to an anonymous bidder on the phone with a Phillips representative.
That time, Mr. Kassay's work was in Phillips' day sale, a forum for lower-value art, and generally the place where one finds artworks by twenty-somethings, if one finds them at auction at all. Last night, a similar silver painting by the artist was the first lot in Phillips' more prestigious evening sale, which totaled $94.8 million, and featured a Warhol Liz painting consigned by hedge fund honcho Steven Cohen that sold for $27 million. The Kassay estimate this time? $60,000-80,000. Its selling price? $290,500. In a mere 20 seconds, the price jumped $100,000 with so many bids streaming in that auctioneer Simon de Pury looked like he was swimming as as he extended his arms towards the bidders.
So. How does an artist's market go from under $10,000 to a quarter million dollars in just a few months? Back in November, just after the Phillips sale, the Transom (in a previous incarnation) explained how the art market produced its latest star. Back then, the rumor was that The Pace Gallery, one of world's most powerful art dealerships, bought the piece at Phillips, as part of a bid to poach the artist from his current New York dealer, the small Lower East Side gallery Eleven Rivington. Not so, Pace's president Marc Glimcher said back then.
And yet, last night, Mr. Glimcher was spotted bidding vigorously on the Kassay, from a seat in the third row at Phillips. He dropped out at $180,000.
Transom caught up with Mr. Glimcher after the auction. So, you didn't buy it, the Transom needled. "No," said Mr. Glimcher. "I would have bought it for $180,000."
Outbidding Mr. Glimcher, or so he said, was a tall fellow seated next to him, whom he claimed not to recognize. The Transom, whose view of the action was annoyingly obstructed by a pillar, asked a few others seated up front — no one seemed to know who the man was.
According to one dealer familiar with Mr. Kassay's market, last night's result was unexpected. Mr. Kassay's market, said this dealer, froze up after in the wake of the November Phillips sale, after his silver paintings began trading briskly on the resale market for over $100,000. (After last night's sale, Phillips' contemporary art department head Michael McGinnis told the Transom that in the weeks following the November sale, Phillips itself sold three Kassay paintings privately, for prices hovering around $80,000.) The staggering price tag on the mystery man's purchase, this dealer told the Transom, came as a surprise.
Not to everyone. Outside the gallery, the Transom questioned a few auction attendants about the piece.
"[Kassay's] very hot," said Isabelle Gros, a French artist who could double as a model. Looking serious, she dropped her voice, "Very, very hot. Everybody wants to buy this painter. I don't know much about this artist so I can't really talk about him. What I know is that everybody says he is very hot."
"My sister's got one," chimed her companion, the Montreal-based collector Francois Odermatt. "So she'll be happy."
Also happy was the Belgian private collector Philippe Liberte, who owns five paintings by the artist and was waiting for a limo to get dinner with dealer Christophe Van de Weghe. The Transom thought he was qualified to speak to Mr.Kassay's appeal. Why are people going nuts for him? Is it about wanting to get in on the ground floor of a name-drop-worthy artist?
"That's about what it is, if you're 25," Mr. Liberte said, meaning with a such a young artist high prices like these will always turn heads. "The work speaks for itself and there's a trick there in making it, but it's very beautiful, there's no denying that. Whether it's worth that price, time will tell."