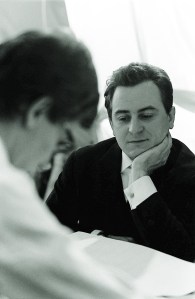 At the Paris Theatre, I recently saw L'Amour Fou, the wonderful documentary about the February 2009 sale at Christie's Paris of the art and design collection of Yves Saint Laurent and his partner, decorator Pierre Bergé. The auction totaled almost $300 million and set many records: an Eileen Gray chair sold for $28 million after frenzied bidding; a beautiful, albeit not classic, Brancusi sculpture went for $37.2 million.
Mr. Saint Laurent died in 2008 of brain cancer; he and Mr. Bergé, his life partner and business manager, had been married in a civil ceremony a few days earlier. Mr. Bergé does most of the film's narration, which is interspersed among slices of vintage footage. The sale's proceeds went to the French AIDS charity Sidaction, which Bergé founded and still runs; it was an elegant, poetic ending to liquidation of the King of Haute Couture's worldly possessions.
Those treasures wouldn't have done as well if Mr. Bergé hadn't been so knowledgeable about the three key ingredients in blockbuster prices: a single-owner sale, important provenance and freshness to the market. I've spent hours thinking about this and often wonder if an unremarkable hotel ashtray in which Mr. Saint Laurent once stubbed out a cigarette wouldn't have made $7,000 on that magic night. For my recent book Collecting Design, which was in large part inspired by the Saint Laurent sale, I interviewed fashion designer/collectors like Marc Jacobs and Karl Lagerfeld, as well as interior designers like Jacques Grange (who did many of Mr. Saint Laurent's homes) and Peter Marino, the go-to guy for luxury brands like Louis Vuitton and Chanel.
I found that they all share a common thread–the eye of the designer–and look at art differently than I do. The impatient Mr. Lagerfeld puts a whole house together in a certain style, then liquidates the lot at auction. Mr. Jacobs collects things that connect with his emotional life–mainly the work of artists he befriends; collecting as an investment would be anathema to him.
The art world loves fashion. In addition to being the man who revived Gucci, Tom Ford is a celebrity, and the fact that he owned a painting adds to its value. In May 2010, his large Fright Wig Warhol self-portrait made $32.5 million at auction; a few weeks ago, a similar, and arguably better one made almost $10 million less. Even with that kind of money to spend, I wouldn't go for a big, theatrical 80's Warhol, like a Fright Wig. I would buy a great early work from the 60's. Nor do I covet a large Warhol Lenin portrait like the one I've seen in photos of Valentino's Paris apartment. I'd go for a disaster painting–an "electric chair " or a "car crash"–every time. I'm not looking only at the pictures; I can't help but consider their historic importance and my feel for their future value.
The great designer/collectors bring celebrity to the art world: if the sublime Anne Hathaway sees a show, it's on the arm of Valentino or his life-partner, Giancarlo Giametti; Mr. Jacobs brings sophisticated Sofia Coppola or sexy Scarlet Johansen. The actresses look but almost never buy–ditto rock stars like Mick Jagger and Bono–but the designers dive in and play an important role in taste making and trend setting.
Mr. Saint Laurent was a fascinating figure. Born into a comfortable French family in Algeria, he got himself hired as Christian Dior's assistant by writing a letter to the editor of French Vogue. Within a few years Mr. Dior anointed him his heir apparent, then died in 1957, leaving the 21-year-old Mr. Saint Laurent at the helm of one of Paris's greatest couture houses. In 1960, during the Algerian revolt, he was put into an asylum for refusing to do his military service, so Dior's conservative owners fired him, leaving him no choice but to open his own house, which he did, with Mr. Bergé at his side.
The success story starts there, and it's a complex one of genius, changing social mores, depression and drug addiction. In the 2002 documentary Yves Saint Laurent: His Life and Times, we meet the designer as an elderly man. It's not a pretty picture–he's bloated, his hair is dyed blond, he slurs his speech and chain-smokes nervously–but nevertheless we get to feel how the man changed fashion history.
Reminiscing, he explains that he "freed fashion from elegance, and made it about seduction," and it's worth remembering that he was designing in the 60's and 70's, during a sexual and social revolution for which his designs became a conduit. He changed haute couture from a business that dressed the richest of the bourgeoisie to a platform for artistic expression and personal whimsy; he made it a mirror on society.
His muses give us insight into his genius, whether it's Betty Catroux saying that he gave fashion "attitude" or Loulou de la Falaise attesting that he "liberated it, making it real, younger and freer." Innovations included shoulder straps for handbags, and (shockingly at the time) dressing women in men's clothes, i.e., pants suits, while keeping them sexy. He found inspiration in vintage clothes, as well as styles from then-exotic places like Russia and China and, in 1962, was the first to put black models on the runway. He virtually invented prêt-a-porter.
(He had an idiosyncratic side: the other night I got to chat about him with the brilliant Mr. Jacobs, who revealed that when Mr. Saint Laurent and Mr. Bergé interviewed him for a position, their first question was, "What is your Zodiac sign?")
The wild life of the 70's led to a split from Mr. Bergé, but the untold story is of the bouts of depression and drug addiction that kept Mr. Saint Laurent hidden from the public during his final decades. And yet his output and creative energy are astounding: Yves Saint Laurent is the history of French fashion.