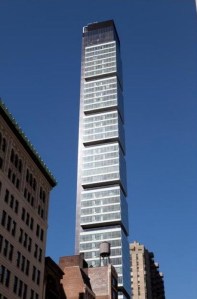 On Monday night, the bright, rain-streaked MetLife clock had just struck midnight and the streets were still crowded with Flatiron revelers when The Observer stood gazing at One Madison Park. The 60-story obelisk rose darker than the sky, with only a single light burning on the 25th floor, until it too went out.
The clock also ticks for Ziel Feldman. The mid-tier developer emerged out of nowhere last month, the leading bidder in a bankruptcy auction for the lone sliver puncturing the cityscape at 23rd and Madison, agreeing to pay a reputed $165 million. But before he can, Mr. Feldman must present his final rescue plan for the tower to a bankruptcy court by early June, sources say.
With a rare location in up-and-coming midtown south, an unfinished pool and health club, views down to the water (on both sides) and luxury pre-Lehman finishes in every unit, One Madison Park should be one of the city's most desirable properties. The arithmetic is nonetheless fiscally suicidal: millions in renovations in addition to the $165 million sales price; dozens of pending lawsuits; and an anticipated two-year wait before the tower is finally finished. To make a profit, Mr. Feldman would need to fetch $2,500 a square foot on average on the condo sales-as much as the swankiest downtown properties like 40 Bond Street, and close even to prices in prizes like the Plaza.
The local housing market is on the rebound, shifting the odds in his favor. But few top industry sources would speculate as to whether Mr. Feldman can meet the deadline and, even more daunting, succeed in turning around the city's most troubled tower. That's because, despite his high-profile buy, few have heard of him at all. "I had to play your message twice," said one legal source who has followed One Madison Park. "Because I wasn't actually sure I'd heard that name before."
Among others, he's won recognition without respect. "He is not a developer," said a real estate source who has worked with Mr. Feldman. "He is an opportunist."
Amid a certain B-list crowd, Ziel Feldman still cuts a fine figure.
During the recession of the early 90's, the square-jawed native of Kew Gardens, Queens, a graduate of Queens College and Benjamin N. Cardozo School of Law, left his job as a successful real estate attorney. According to legend, within a few years, he amassed a staff of 20, who perched at $39 folding tables in a second-floor office on 42nd Street the size of a bachelor pad.
Around that time, Mr. Feldman met Gary Barnett, who had made a fortune in the diamond trade. "He was the experienced real estate guy," Mr. Barnett said of his partner back then. The pair bought walk-ups, then elevator buildings, then, most notably, the Belnord, an aging Upper West Side dame near the Apthorp. They managed to turn the former West 86th Street home of actor Zero Mostel, writer Isaac Bashevis Singer and jazz impressario Art D'Lugoff into a more successful version of that troubled neighbor.
"We haven't been partners for quite a number of years," Mr. Barnett said. "But I wouldn't hesitate to do something else with Ziel."