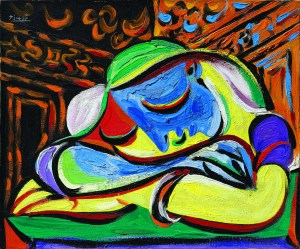 Simon Shaw is droll in the way you might expect a Sotheby's department head to be, but there was only a shadow of irony in his voice when The Observer brought up Femmes lisant (deux personnages), a 1934 Picasso painting of Marie-Thérèse Walter that Sotheby's sold in May for $21.3 million.
"It's the summer of Marie-Thérèse!" Mr. Shaw exclaimed, mostly not kidding.
"Well," said the London gallerist Richard Nagy, who seemed amused when told of his colleague's branding. "That just depends on what Sotheby's has to sell, doesn't it?"
This month it is, in fact, a rival of Sotheby's that has something to sell. On June 21, the London branch of Christie's will put on the block Jeune Fille Endormie (1935), another Picasso painting of Marie-Thérèse; it's estimated to fetch between $14 million and $19 million and is just the latest in a series of offerings that prompted Art Market Monitor to ask, "Is This a Marie-Thérèse Bubble?" Demand for Picasso's diverse oeuvre has been widening in recent years to include pictures created later in his career. Around 2009, a period of declining value in the art market at large, the previously overlooked late-period Picassos of the 1960's and 1970's saw a spike in demand and a doubling in value.
In the spring of 2009, Gagosian Gallery's 21st Street branch had lines down the block for a show of the artist's very last canvases. Now, an exhibit of some 80 Marie-Thérèse works in that very same space—many of them from the artist's family—are generating similar crowds. It may seem obvious to say that works depicting this particular mistress of Picasso are popular with collectors. A Marie-Thérèse painting (Nude, Green Leaves and Bust, 1932) from the estate of collector Frances Brody garnered the highest-ever price for a painting at auction last year when it went for $106 million, and it wasn't an anomaly—with money flowing into the art market, collectors seem almost as eager to buy works from the period as sellers are to obtain them.
Marie-Thérèse's popularity isn't new—a broad description of the Picassos associated with her checks off many of the qualities collectors value in any painting, including a colorful palette and a curvy, sexualized female figure. They are instantly recognizable as Picassos and even come with a torrid love story. When Picasso met his muse outside the Galleries Lafayette in 1927, she was 17 to his 45; they had a child, and remained lovers until the late 1930's.
Some believe the market craze for Marie-Thérèse dates to the high-profile Victor and Sally Ganz sale at Christie's in 1997, when Le Rêve (1932) sold for a whopping $48.4 million, but she also had her moments in the 1980's. Le Miroir (1932) sold at Sotheby's in 1989 at the height of the market boom to a Japanese client for $26.4 million. (In 1995, it reappeared, fetching $20 million at Christie's despite the art market's being in its mid-90's slump.)
"Those are iconic Picassos for the people who have been buying Picasso since the 80's," said Pace Gallery president Marc Glimcher, of the works from the Marie-Thérèse period. "Prior to that they were anything but iconic. They were decorative Picassos that nobody took that seriously. That's why there were so many of them still hanging around" on the market in the 80's, he said. "But this is how the world changes."
If the interest in Marie-Thérèse isn't new, there certainly seems to be more of it, judging by the impressive—if sometimes hypothetical—returns some have seen on their investments. La Lecture (1932), a painting that went for $40 million at Sotheby's in London in February, sold for just $5.7 million in 1989, according to ArtNet. Les Amants (1932) went for $6.3 million in 2000, and jumped to $14.6 million in 2007. And the present owner of Le Rêve, hotelier Steve Wynn, was negotiating to sell his picture to Steve Cohen for $139 million in 2006 before Mr. Wynn accidentally put his elbow through it. After repairs, Mr. Wynn decided not to sell the painting, but tantalizingly exhibited it in a Marie-Thérèse show at New York's Acquavella Galleries in 2008.
"If Le Rêve and all the other [Ganz Picasso] pictures were on the market now they would probably double or triple those results," said Giovanna Bertazzoni, head of Impressionist and Modern Art at Christie's London.
Mr. Glimcher, as it happens, is bringing a Picasso that, as he put it, "can be called a Marie-Thérèse" to Art Basel, the world's most prestigious fair for modern and contemporary art, which opens this week. But he laughed off the notion that he was following a trend.
"If it looks like it's a crass marketing ploy, it isn't" he said. "It's not like you can go to the Picasso store and go find a nice color for Marie-Thérèse."
Not exactly. But it is a seller's market, and critic John Berger estimated in his book The Success and Failure of Picasso that the artist painted and drew no other woman "half as many times" as he did Marie-Thérèse (he also said, in 1965, that Picasso owned some 50 Marie-Thérèse paintings himself). After the sale of La Lecture, in London in February, Mr. Shaw reached out to collectors for a Marie-Thérèse for the May sale in New York to fill the "evident demand in the marketplace" and was able to get Femmes lisant rather quickly, putting it on the cover of the catalogue for the May auction. He said the timing with Gagosian's show was serendipitous.
"We had secured that work for sale, then suddenly Gagosian announced that there was this fabulous show that was going to happen on Marie-Thérèse," Mr. Shaw said. "We were delighted because it set the whole thing in context."
The context is valuable, said Valentina Castellani, the Gagosian director who organized the exhibit with Picasso biographer John Richardson and Marie-Thérèse's granddaughter Diana Widmaier Picasso, who approached the gallery about the exhibit around the time of the Brody sale. While the Picasso family was instrumental in securing many of the works on display, there are also a number of not-for-sale loans from private collections, which means that there's a P.R. element.
"The message that we send out to collectors is Gagosian is the place where, if you have a beautiful Picasso, you can probably sell it," Ms. Castellani said. "Or if you want to buy a beautiful Picasso, you can contact us. I think it gives an unmatchable position in the Picasso world."
The subtext here may well be: bring your Picasso to one of Gagosian's 11 galleries worldwide rather than to an auction house. In 2008, a senior Gagosian director told journalist Sarah Thornton, "The Gagosian empire competes more with the auction houses than with the galleries."
After Femmes lisant, which was estimated to sell for as much as $35 million, sold to its one bidder at the low end of its presale estimate, Larry Gagosian told reporter Judd Tully, "[Sotheby's] got lucky, I think, and I'm glad they sold it." Having a picture publicly fail to sell because its estimate was too high would have arguably hurt a market Mr. Gagosian has done much to develop recently.
The Gagosian show is fiendishly biographical, hitting visitors with pressure-building photographs and sketches that hint at Marie-Thérèse's early influence, leading them to a giant room meant to evoke the explosive urges that fueled the relationship, and clustering them at the exit with a love letter. And why not play up the love story? It's hot stuff. Noted Picasso biographer Arianna Stassinopoulos Huffington wrote in 1988 that Marie-Thérèse was an "endlessly submissive and willing sexual pupil who readily accepted all experimentation, including sadism, with absolute obedience to Picasso's will."
"Clearly we are using it for the market purposes because it's a good story, because it's saucy, because it's sexy," said Ms. Bertazzoni, the Christie's specialist. "All these stories add fascination to the fetish and it's very easy to tell the stories, and create a myth around the painting that one is about to buy."
It's a sales pitch Picasso might well have approved, given the highly biographical elements of the works themselves, but it's also somewhat necessary, as the Marie-Thérèse pictures have not been widely considered to possess quite the historical heft of other Picassos. (The previous record for world's most expensive painting at auction was held by a Rose-Period Picasso, Boy With a Pipe [1904-06], which sold for $104 million in 2004.)
"[The Marie-Thérèse period] doesn't have nearly the historical significance that cubism, for example, or Picasso's so-called surrealist work does," said Jeffery Weiss, who has curated a show on the artist at the National Gallery in Washington, D.C. "But it's always occupied a pretty solid level of interest on the part of most historians of Picasso's work—outside of the field of Picasso studies, it's true it hasn't been given a lot of attention."
For this reason, Mr. Richardson's involvement has probably never been more valuable to Gagosian, even if he didn't star in a New Yorker Talk of the Town piece, as Ms. Widmaier Picasso did. A vital, engaging scholar and a source of instant credibility, Mr. Richardson, 87, officially joined the gallery as an adviser in 2008. But most of his later years have been spent writing his Life of Picasso, the first volume of which emerged in 1991. That covered the artist's life only through 1906, and Mr. Richardson survived partially on donations to the John Richardson Fund for Picasso Research, established by his friend Sid Bass, while he wrote two more volumes. On the occasion of the Gagosian exhibition, Vanity Fair excerpted part of Mr. Richardson's forthcoming fourth and final volume under the heading "Picasso's Erotic Code." You can even watch videos of Mr. Richardson discussing the exhibit on the newly released Gagosian iPad app.
"Just because of the book and because of the biography itself, he's responsible for positioning Marie-Thérèse material close to the center of a certain kind of interest," said Dr. Weiss. "And that includes the market."
So if the historical significance and market appeal diverge slightly, the story becomes crucial to legitimizing something people already want to like. Mr. Gagosian and the auctions aren't selling anything people don't want already, and it's quite possible that if a trove of weightier Picassos came onto this flush market, they'd sell for just as much money, though such a matchup is unlikely.
"People often say, 'Why isn't Rembrandt the most expensive artist?'" Mr. Glimcher said. "Because there are no Rembrandts left in the marketplace. They're all in museums."
He added that if there's been a price grab for Marie-Thérèse Picassos, it's because the ones that have hit the market have been particularly good. It is hard not to admire what's on display at the Gagosian show. When The Observer visited it last month, visitors seemed to have a visceral reactions to the works, gasping at their sexual frankness and cooing over Marie-Thérèse's beauty.
Wandering in that giant second room, The Observer spotted the fashion designer Valentino Garavani, whose pondering of the works was more reserved, a gloved finger to his lips. He wore a beige suit and pink sunglasses. A longtime art collector, Valentino once bought Picassos from the artist's tailor. Scooting in among his entourage, The Observer inquired: Was he a fan of the Marie-Thérèse period?
"Yeah," Valentino replied, standing before a pair of entwined figures. "They're the best ones, for me."
dduray@observer.com