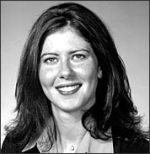 A new name is making the rounds in political circles as a replacement for the now ex-congressman Anthony Weiner: City Councilwoman Elizabeth Crowley.
The 33-year-old lawmaker would be an intriguing choice since she is the cousin of the man who will have more say than anyone over who takes the seat: Congressman and Queens County Democratic Party leader Joe Crowley.
She beat Republican Anthony Como in 2008 after losing to him in a special election earlier in the year in a district that skews relatively conservative and in a race that Congressman Crowley made a major priority of the county party.
The county party will decide who runs on the Democratic line for the seat, which should almost certainly decide who ends up winning. Several Democrats I have spoken with have suggested that Congressman Crowley would put somebody unlikely to run either against him or against Congressman Gary Ackerman, which would rule out Ms. Crowley, since she would be unlikely to give up a safe Council seat just to hold down a Congressional seat for a few months before it evaporates due to redistricting.
That said, what happens during redistricting is anybody's guess, and for everyone who thinks that Weiner's seat will be withdrawn would do well to remember that there was little talk about eliminating the 9th when Weiner represented the district. If Ms. Crowley has a powerful patron like her cousin looking out for her, there remains a good chance that the district remains intact.