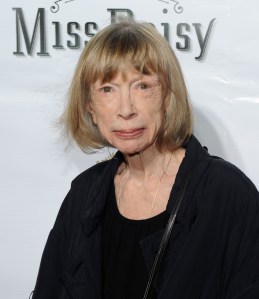 Last Tuesday, Sonny Mehta invited a murderers' row of writers from his deep stable at Knopf to Cognac, a nondescript Midtown brasserie at Broadway and 55th. But for those aimlessly drifting from one staid BookExpo party to the next, this was the B.E.A. holy grail. Jennifer Egan! Jeffrey Eugenides! Harry Belafonte and foie gras canapés! But even more exciting than Champagne and faces we knew from prominent back flaps was the presence of Joan Didion, the event's star, sitting at a table alfresco, never moving her sunglasses even as the sun set, gently speaking to the lines of admirers and supplicants.
Blue Nights, Ms. Didion's first work since the memoir The Year of Magical Thinking, won't hit shelves until November, and snagging a galley at the party was no small feat: the tables and banquettes were littered with early editions from James Wolcott and Colson Whitehead, but Ms. Didion's latest was nowhere to be found, causing some consternation among attendees. Eventually several guests found a small stack of the slim paperback, guarded by an assistant, and scooped them up.
After a martini or two we hovered by Ms. Didion's table, and she asked us, with a wave of a hand as tiny as a seashell, if we would join her. We did, and she gladly signed the Transom's copy.
"I think it came out well," she said, glasses perched on her fragile nose, her voice a whisper. "I didn't think I'd make it long enough to finish it."
nfreeman@observer.com