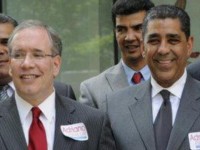 State Senator Adriano Espaillat sent an email to supporters this afternoon, inviting them to a fundraiser tonight to benefit Manhattan Borough President Scott Stringer.
The fundraiser, which promises both cocktails and conversation, will be at his Espaillat's home on Park Terrace West, at the very northern tip of the borough, way up near 218th Street. The email notes that Stringer was born and raised in the neighborhood, and served as a community board member and district leader.
Stringer is exploring a race for mayor in 2013, and would likely start with a base of support from Manhattan elected officials like Espaillat, who represents the northern end of the borough, and Councilman Ydanis Rodriguez, who is also attending. But he's unlikely to have Manhattan to himself, with Council Speaker Christine Quinn also fundraising for 2013.
Here's the email:
Dear friends,

I invite you to join me at my home, along with our local elected leaders and Northern Manhattan Democrats for Change, for an evening of cocktails and conversation with Manhattan Borough President, Scott M. Stringer.

Born and raised in Washington Heights, a former member of Community Board 12 and district leader in our community, he has remained a tireless advocate for everyone in our borough.  I hope that you will join me as we welcome my old friend back to the block, and hear his thoughts on the future of this great city.

Join me tonight for a fundraiser at my home, in honor of the Manhattan Borough President Scott M. Stringer.

Time: 6:30 pm

Location: 62 Park Terrace West, Apt A87.

For more information on the event and how to contribute

please see below or click here.

To RSVP please call Aneiry Batista at (917) 547-XXXX or email Adrianoespaillat72ad@gmail.com.

Sincerely,


Adriano Espaillat