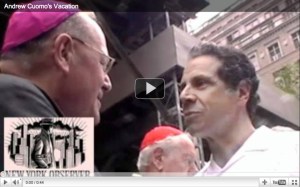 Governor Cuomo's self-imposed June 20 deadline for passing same-sex marriage and other top initiatives is quickly approaching. At a parade on Sunday, Cuomo told Archbishop Timothy Dolan — a man known to enjoy a cold one now and then — that when this week is over, it's "Miller Time."
Which, may or may not include unannounced trips to Saranac Lake.
Video after the jump.