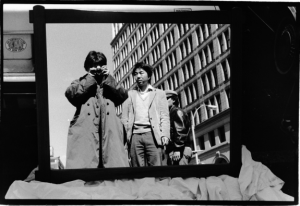 Three decades before his arrest and subsequent release last week by the Chinese government incited a media firestorm, Ai Weiwei worked as a Times Square street portraitist.
Enrolled at Parsons and living on the Lower East Side, he encountered drug dealers in abandoned buildings, a gritty underground arts scene, and police brutality at Tomkins Square Park riots — all of them captured in the Asia Society Museum's new exhibit of his photographs, which opened yesterday.
Distilled from an original 10,000 photographs that Ai shot in his decade here before returning to China, the selection of 227 black-and-white images portrays a New York plagued by AIDS and urban blight — a city in stark contrast to Ai's native China. "I was actually kind of surprised that so many people call America a civilized society," Ai said in an interview conducted for the exhibit. "It's not all that civilized because each person still has a lot of burdens. Americans don't enjoy life as much."
Ai's sense of American burdens is unmistakable in his photographs. There's one of a homeless man in a subway entrance wearing a sign that reads, "I Have AIDS Ples Help." There's another picture that features a protestor with blood flowing down his face, another of a protester waving a sign that says, "No police state!" One of the tenser shots features police lined up on the edge of a riot, ready to pounce.
Seeing the protests in New York City gave Ai "a strong sense of the power of the individual voice," museum director and exhibit curator Melissa Chiu told The Observer. Known for his anti-government-laden Tweets, blog posts and artistic works (he famously gave Tiananmen Square the finger), Ai said in the same interview, "I was interested in individual rights, group rights, and their relation to power — power in the form of police control — and the resulting confrontations and abuse of those rights."
That's not to say that the exhibit is confined to political subjects. The photographs also reveal Ai's impulse to record his personal life – living circumstances in a cramped East 3rd Street apartment, a nude self-portrait reminiscent of Duchamp's Rrose Selavy, and a lady-friend smiling and pointing at an old-fashioned cinema display that features "Hot Orgy," "Carnal Desires," and "Wet Fantasy."
The exhibit also highlights Ai's meticulous documentation of the downtown arts circle to which he belonged. Photos of Allen Ginsberg in his apartment accompany those of other Chinese artists in the nascent stages of their careers; notables like Tan Dun, Chen Kaige and Xu Bing feature prominently in his pictures.  One gets the sense that the Chinese artistic community was gathered around Ai — even before his debut as an international rabble-rouser.
The exhibit is on view at the Asia Society Museum until August 14.