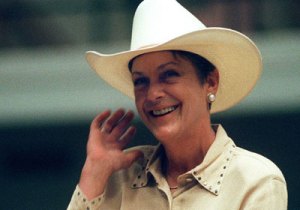 The first sentence of Carol Vogel's glowing profile of Alice Walton in the Times today compares the billionaire Wal-Mart heiress—not exactly known for talking to the press—to "Isabella Stewart Gardner, John Pierpont Morgan Jr. and Gertrude Vanderbilt Whitney."
When Ms. Walton's Crystal Bridges Museum of American Art opens November 11 this year, it will be the only show in town, quite literally: it's located in the quaint city of Bentonville, Arkansas, population 35,000. What can we expect from Ms. Walton, who declined to fund the American Folk Art Museum in midtown because she was offended by the work of Henry Darger?
"She has not just been concentrating on what could be perceived as the greatest hits in American art," John Wilmerding told the Times. He's an art historian and professor at Princeton University. (He's been advising Ms. Walton and is on the board of her museum.) Ms. Vogel says some works include "substantial bodies of work" by Martin Johnson Heade, Stuart Davis, George Bellows and John Singer Sargent. Crystal Bridges is a staggering 201,000 square feet.
Ms. Walton has been buying art for the museum since 2005 as part of what Ms. Vogel calls "a years-long spending spree that has made her a recognized force in the art market."
Aside from telling us about the other art attractions Bentonville has to offer—namely, nothing—Ms. Vogel also got John Richardson to say on the record that, at least in terms of Abstract Expressionism, Ms. Walton "[knows] exactly what she [is] looking at." Apparently, the famed Picasso biographer and the heiress, whose net worth is estimated at $21 billion, visited "Abstract Expressionist New York" together at MoMA. The Observer likes the thought of this odd couple standing in front of a Pollock together, likely disagreeing on what it "means."
UPDATE: Through a representative, the American Folk Art Museum says it is incorrect to state that Ms. Wallton declined to fund the museum after taking offense at a Henry Darger Exhibiton, as is stated above, which was first reported in this paper back in February. According to the museum's representative, "Several years ago Alice Walton came to the museum for a tour of the exhibitons with the executive director Maria Ann Conelli. Ms. Walton was never asked to fund the museum no did she comment about the Henry Darger paintings on view."