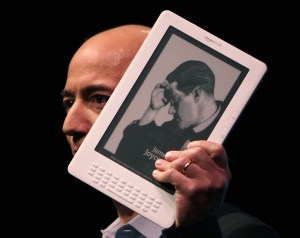 Amazon Publishing has already shown little interest in industry traditions, and The Observer has now learned how Amazon is looking to revolutionize the process of getting author blurbs: provide a review for a book on an Amazon imprint and Amazon will give the reviewer — and his or her book — extra promotion as a thank you.
While it's easy to be cynical about old publishing's faux-gentlemanly approach to getting promotional quotes (send advanced reading copies to an author's MFA supervisor or writer friends with handwritten requests on nice letterhead for "thoughts") Amazon Publishing dispenses with the niceties altogether.
Exhibit A is an email that was sent in January to Elyse Cheney, a New York literary agent, asking for a quote from one of Ms. Cheney's authors for a book called Stalina, "by an exciting author named Emily Rubin." The book was coming out on AmazonEncore, the Amazon imprint that republishes successfully self-published books.
I'm interested in knowing whether [name redacted] would be willing to take a look at Stalina and if he likes it, provide a guest review in which we'd also  promote [name redacted] and his works, including any upcoming projects.
"They referred to her as a man!" said Ms. Cheney with disdain. The client in question is a woman.
The email went on to detail its promotional efforts:
The review would be prominently featured on Amazon.com in customer emails, rotating campaigns in the Amazon.com Books and Kindle stores, and on the Stalina detail page (to which our marketing and PR efforts will be driving significant traffic).  This would be a great way to get added exposure on Amazon for [name redacted]'s backlist or upcoming releases.
"It's completely unethical," said Ms. Cheney. "That's just not how blurbs are done."
Another agent, however, saw no problems with the approach. The exclusive review that ultimately ran on Stalina's page came from the novelist Daphne Kalotay, author of Russian Winter.
"Amazon did contact us, as they were fans of Russian Winter and felt Daphne would be appropriate given the overlapping interest in Russia," wrote her agent, WME's Dorian Karchmar, in an email to The Observer. Ms. Karchmar said there were no stipulations about what Ms. Kalatoy could write and added that they weren't "aware of any exchange in terms of featured placement."
"There are a number of publishers, including Amazon Publishing, that try to secure guest reviews for their books," said Sarah Gelman, PR manager for Amazon Publishing. "The guest reviewer often receives some on-site promotion as an added incentive to write the review." Of course, most publishers are not also retailers.