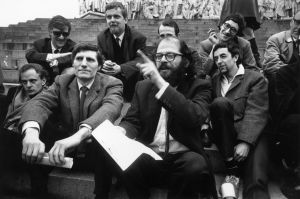 Wednesday, June 1
Lincoln Debates
Not all is well at Lincoln Center–the City Opera finally bolted for greener (hopefully more acoustically sound) pastures, and the City Ballet's season was described by our venerable dance critic as "schizophrenic." Plus, they have a theater named after a tea-partying Koch brother! But the site's ongoing redevelopment continues apace, and the latest step is unveiled this afternoon when Reynold Levy, president of Lincoln Center, presides over a ribbon-cutting for the new Elinor Bunin Munroe Film Center. The new theater will include two screening rooms, an amphitheater and a cafe. It's been designed by architect David Rockwell, in case it reminds you of one of his Nobu restaurants. The theater officially begins screenings on June 17 with the New York Times documentary Page One. We just hope it's in 3-D, so we can all witness David Carr pounding out copy in his full glory! … Meanwhile, super-duper-model Iman hosts the Gordon Parks Foundation Dinner. The late Parks was, among his many other accomplishments, the director of Shaft, and his foundation is meant to honor those "who have contributed their lives to the arts." Naturally, the honorees include legendary performance artist Arianna Huffington, as well as fashion alien Karl Lagerfeld and TED impresario Sir Ken Robinson.
Lincoln Center ribbon-cutting ceremony at 4pm, 144 West 65th Street, closed to public; Gordon Parks Foundation Dinner, Gotham Hall, 1356 Broadway, 6:30pm cocktails, 7:30pm dinner, visit gordonparksfoundation.org for tickets and information.
Thursday, June 2
Health and Wealth
Cipriani is positively crawling tonight with world leaders (seriously, do not drop a bomb on this place!) in town for the Global Business Coalition Conference and Gala Awards: Ted Turner! George Soros! Gordon Brown! Whoopi Goldberg! We know, the former Hollywood Squares Center Square and View hostess isn't quite on a par, powerwise, with former prime ministers or Bilderberg Group members, but she's a seasoned hostess, and she'll keep the proceedings running smoothly. Honorees were selected for their dedication to global health–try to catch one during the creatively titled predinner "networking reception." All receptions are about networking, of course, but the chance to catch up with Mr. Soros and ask him to float you a $50 is something special.
Cipriani Wall Street, 55 Wall Street, 6pm networking reception, 7pm dinner with musical performances by Natalie Merchant, Yvonne Chaka Chaka, and Vusi Mahlasela, visit conference2011.gbcimpact.org for tickets and information.
Friday, June 3
Cheek by Howl
I saw the greatest minds of my generation … gathered for a party in Tompkins Square Park! The poet Allen Ginsberg may be gone, but his acolytes grow in number–once you've been played on film by James Franco, you're on the poetry A-list. Ginsburg groupies of all ages gather tonight for the commencement of the Howl Festival, a three-day celebration of all things Allen. Tonight brings a group reading of Howl, the poet's signature work–happily, times have changed, so presumably the attendees won't be prosecuted for vulgarity! Saturday and Sunday's events include a children's carnival, just in case you want Junior to get inculcated into Beat culture very, very early.
Howl Festival begins tonight at Tompkins Square Park, group reading 5pm-7pm, free, visit howlfestival.com for information.
Saturday, June 4
Buck You!
What would you like to do on your weekend in the Hamptons? If you're anything like us, you're ready to duck into a movie theater (the beaches have their fleeting charms, but it's so hot outside). The documentary Buck–which recently earned itself a private Tom Brokaw-hosted screening in New York–continues its race to become the most widely seen-among-socialites film of the season with a screening at the Hamptons International Film Festival's SummerDocs series. (The film profiles a brilliant horse whisperer, so go ahead and wear your jodhpurs.) After the screening, James Lipton interviews the salty if handsome equine expert–hopefully asking him those great Liptonian questions about curse words and turn-ons. Whoa, Nelly.
Guild Hall, John Drew Theater,
158 Main Street (East Hampton), 8pm, visit guildhall.org for tickets
and information.
Sunday, June 5
Back in the Saddle
Speaking of horses, the smart set gathers on Governors Island today for the Veuve Clicquot Polo Classic. It's an afternoon of Champagne, sweltering heat and thrilling riding. The Australian dynamo Hugh Jackman is to preside over the event (replacing absentee star Prince Harry–sorry, you would-be princess brides!). Other big names in attendance include bona fide horsey lady Georgina Bloomberg, Fiat heir Lapo Elkann, Washington senatorial scion Chet Lott, and Top Chefstress Padma Lakshmi. Before the polo begins, we'll be trying to sneak our way onto Ms. Lakshmi's picnic blanket for the afternoon's outdoor repast– if anyone would know what food to pack for an afternoon picnic, it'd be her! (For all those less connected, Danny Meyer's restaurants have set up outposts to provide sustenance. Be sure to ask for a sugar cube for the ponies!)
Governors Island, ferries depart
from Battery Maritime Building at
10 South Street, gates open 11am, polo begins at 2:30, awards ceremony at 4pm, information, maps and tickets available at vsseason.com/polo.
Monday, June 6
Fashion Plates
Anderson Cooper has serious ties to the fashion industry; after all, his mom used to design our favorite jeans! Tonight, the denim heir–who's pretty dapper himself!–hosts the Council of Fashion Designers of America awards. Unlike certain bloated ceremonies we could mention, the CFDAs have only three nominees per category (Alexander Wang, those Proenza Schouler boys and Marc Jacobs face off for Womenswear Designer of the Year), so Mr. Cooper's hosting job will be a bit streamlined, just like the sleek menswear he prefers. Some categories have already announced their winners: Lady Gaga will pick up the Fashion Icon Award (expect her to don something simple and tasteful–a nice blouse, perhaps, and chic slacks), and Celine's Phoebe Philo will nab the International Award. We'll be watching Mr. Cooper's hosting efforts closely–the guy can handle hurricanes, but you don't get to be the next Oprah without facing down Marc Jacobs …
Alice Tully Hall, 70 Lincoln Center Plaza, arrivals and cocktail hour, 6:30pm, event to follow, visit cfda.com for more information.
Tuesday, June 7
Naturopathy
Summer means time outdoors, naturally–but does it have to be so natural? (We prefer the Hamptons, or, if we're slumming it, Sheeps Meadow.) Well-meaning vegetable gardens–intended to help students eat healthfully and live off the land–aren't simply limited to the White House lawns! Earlier this year, a farm unexpectedly sprouted up in the Battery, under the auspices of the Battery Conservancy, and now this "Urban Farm" is the setting for an outdoor shindig. The Battery Conservancy's "Farm to Feast" gala honors legal eagle Robert Morgenthau with a big-tent blow-out right next to the farm … For those unafraid of venturing to Brooklyn, the Botanic Garden is preparing a Spring Gala with Champagne in the Herb Garden, cocktails in the Rose Garden and dinner on the Cherry Esplanade. Even the after-party is outside, though we hope the only ones "making it rain" are the high-spirited and generous attendees.
Battery Gala, tent on Battery lawn next to Urban Farm (enter at State and Pearl Streets), 6pm cocktails, 7pm dinner, call (212) 344-3491 x21 for tickets and information; Brooklyn Botanic Garden Spring Gala, 5:30pm Champagne, 6:30pm cocktails, 8pm dinner, 9:30pm after party, visit bbg.org for tickets and information.
Wednesday, June 8
Teenage Dreams
It's prom season for the city's teens, who are flooding florists and packing tuxedo rental shops. And for one night, at least, it's prom night for the rest of us, too, at the Urban Arts Partnership's so-called Prom benefit, a do-over of sorts for those of us who spent the big night weeping in our bedrooms back in high school. This "Prom" boasts all the high-school-y trappings–hors d'oeuvres, dancing, romance–as well as cocktails (though sadly, the spiked punch will be obtained legally)! Vanity Fair's saucy interlocutor George Wayne, Social Network socialite-in-training Jesse Eisenberg, and the artiste Alan Cumming are among those who'll don blue ruffled tuxes to benefit the Urban Arts Partnership, which promotes arts education for citified youngsters. Save us a dance, Jesse!
Edison Ballroom, 240 West 47th Street, 7:30pm, call (212) 966-5881
for tickets and information.