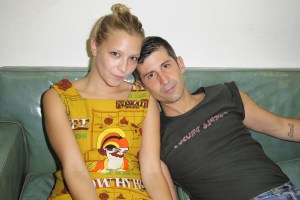 For nearly a year, red-eyed connoisseurs of New York after midnight have been waiting, impatiently, for French graffiti guy Andre Saraiva to open his Manhattan branch of the notorious Paris sin den Le Baron and save the city's nightlife. The chosen nook of Mulberry Street has been cordoned off, with little to no activity for months. Rumors abound but no opening date has been set. So, then, where exactly was the in-demand Mr. Saraiva?
"andre est a paris … !" the man said, on Twitter, April 21.
"Je suis a paris!" read another tweet, from May 28.
And then, on June 9: "very hot in N Y … !"
The Transom confirmed his stateside presence on that sweltering Thursday when we ran into him at the Boom Boom Room. Samantha Ronson was on the decks (it's been noted that Mr. Saraiva is dating the D.J.'s younger sister, Annabelle Dexter-Jones), and the Baron Andre sat windowside with a spread of Standard Hotel fries and Champagne. As the party waned, many of the attendees followed their Cognac buzzes from the meatpacking to Nolita, where, until Le Baron opens, Kenmare will suffice.
We stayed late. Around 4 in the morning the Transom was wedged in a booth next to Ms. Dexter-Jones, in a slipover jersey sweater and tiny hot-pink shorts, as we waited for Mr. Saraiva and Nur Khan, the owner, to finish up talking. Ms. Dexter-Jones happened to mention, not casually, the recent article on her boyfriend that had run last month in BlackBook.
"You know, none of that is true," the 24-year-old Ms. Dexter-Jones told the Transom. She was referring to the bit that equated the sound of the couple's shower sex—overheard by the BlackBook editor in question—to "someone strangling a crocodile."
We never believed that, Annabelle, we said. Never even thought about it.
Then Mr. Saraiva returned to our wing of the booth.
"I don't know when Le Baron will open," he told the Transom. "Maybe it will never open!"
We pleaded with him to go ahead with his plans. Then, knowing his transatlantic tendencies, we asked where his travels will take him in the next months.
"Well," he said, plucking out his English words as if from an ill-stocked, cluttered bag. "I have to be New York, to watch over the construction of Le Baron."
So it will open!
"I don't know," he said. "But when it does, you will know."