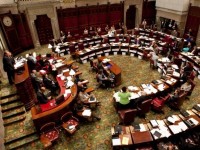 New York will legalize same-sex marriage, becoming the sixth and largest state to do so, thanks to a carefully crafted amendment struck between a handful of Republicans and Governor Cuomo.
It's a stunning turnaround for the freshman governor and Republican-led State Senate, whose members uniformly voted against the bill in 2009. The bill's passage was sealed tonight when one of the longest serving Republicans, Stephen Saland of Poughkeepsie, outlined the details of the amendment protecting religious organizations from having to recognize or provide services to gay couples.
"My intellectual and emotional journey has ended today," said Saland, signaling his support for the bill because of it's religious protections. "I fear to do otherwise would fly in the face of my upbringing."
Freshman Republican Mark Grisanti a lawyer and a Catholic who announced he would oppose the bill, tonight reversed himself, saying the religious protections satisfied his concerns.
"I cannot legally come up with an argument against same-sex marriage," said Grisanti.
UPDATE: The final vote, 33-29 in favor. The four Republicans who joined with 29 Democrats to pass the bill were Jim Alesi, Roy McDonald, Stephen Saland and Mark Grisanti. The only Democrat to vote against the bill was Ruben Diaz Sr., a pentecostal minister from the Bronx.
Mayor Bloomberg issued a statement thanking Republican Leader Dean Skelos "for allowing democracy to work."