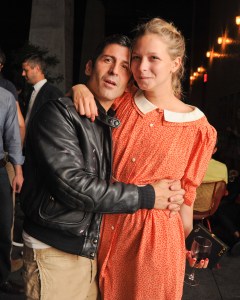 Barely halfway into The Shoe, the 20-minute debut film from nightlife curator Andre Saraiva and fellow Frenchman Olivier Zahm, a young man meets a pretty girl in a Paris park scribbling in a notebook and they lock eyes and begin kissing as the music shuts off, the only sounds the clicks of teeth on teeth, and seconds later they're at her apartment — clothes fly off and they go at it, the camera catching all. He wakes the next morning, steals the titular footwear, and we never see her again.
Who was she, that girl with the notebook? She was, of course, the director's girlfriend, Annabelle Dexter-Jones, and she watched the X-rated dirty deed with her mother sitting beside her.
"She liked it!" Ms. Dexter-Jones told The Observer much, much later in the night.
We told her we liked it, too.
"It was tasteful, no?" Ms. Dexter-Jones responded, and curled back her hair onto the big collar on her orange sherbet-colored dress.
"For sure," we said.
We had ended up at Kenmare –yes, yes, but where else? — and so did the director and his starlet, so we stayed until after closing time and sat down to talk about the stacked levels of awkward that struck her during the screening. An edited version had been scheduled especially for Ann Dexter-Jones, but mom insisted on seeing her daughter's risque scene. And things couldn't have been all peachy for Mr. Saravia — he had to watch Leo Fitzpatrick, the kid from Kids, get hot and heavy with Ms. Dexter-Jones.
But it seems all is well.
"In the scene," Ms. Dexter-Jones said after a sip of her drink. "I was writing a love letter to Andre."
The film may have been Mr. Saraiva's own mash note to his muse, too, but it was also infatuated with the contraband loafers, made by J.M. Weston. It was a particularly convincing ad for the shoes — it's perfectly clear why Mr. Fitzpatrick steals them, has them stolen from him in kind and, when he finds the thieves, beats them to a bloody pulp to get them back. The guy cares about loafers!
The crowd skipped the first showing, the edited version, in favor of vodka drinks on the third-floor stone balcony, and then filed into the screening room for the film. Paris, pretty people, sex, loafers, cafes, etc. And yes, as Annabelle would reiterate later, her mother had no problem whatsoever witnessing the spectacle.
"I was very comfortable!" the elder Ms. Dexter-Jones told The Observer. "She was acting. It's not like I'm a peeping Tom! I had to appreciate –"
"Can I get one photo for Women's Wear Daily?" said a woman with a Polaroid camera. Apparently the rag has gone retro with its fashion slideshows.
She snapped it and the hazy undeveloped image puttered out of the clunky machine.
"But yes," Ms. Dexter-Jones continued. "I think she's a great actress."
The party migrated to Le Bain, where it's finally warm enough for the hot tub to be open, but The Observer chased the party downtown and split for to the pop-up Madame Wong's (which got the full Thursday Styles treatment in today's Times). Before seeing The Shoe we had run into Simonez Wolf, impresario behind the traveling hush-hush infrequent club, and he told us it was on tonight. But when we arrived at Jobee, the nondescript place the party occupies, there was only Nico, a waiter, and he said it had been quiet.
"Just went to wong's at jobee, is it somewhere else?" The Observer texted Mr. Wolf. "Nico was cleaning up."
"idk," Mr. Wolf responded.
Oh well. Luckily enough Kenmare had on display a wobbly Josh Brolin who rolled through with his bros, Paul Sevigny hauling his DJ rig brought over from Le Bain, and eventually Mr. Saraiva and Ms. Dexter-Jones. It got late and after discussing The Shoe Ms. Dexter-Jones changed the subject. She wanted a book recommendation.
"Have you read The Day of the Locust?" we asked.
She hadn't. But later we realized that, given the film we had watched her in earlier that night, a much more appropriate choice would have been the book stuffed in our jacket pocket: Dylan Thomas' Adventures in the Skin Trade.
Then the couple left, driven away by one of the bouncers as dawn started to hit the rooftops, and as we walked away we realized we had two lighters in our pocket. If you want yours back, Annabelle, let us know.