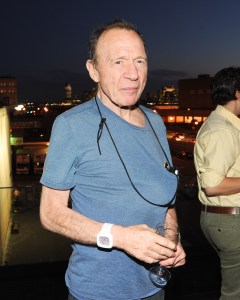 Consummate party-goer and writer Anthony Haden-Guest stood on the deck of The Standard last night having just seen the premiere of The Shoe, Andre Saraiva's sex-filled Parisian romp with a slight footwear fetish. He was drinking a glass of red wine. It was, The Observer noted, not his first of the night.
"Let's go up to the party!" he said, gesturing toward the other end of the balcony. The celebration was set to continue at Le Bain, the top-floor spot Mr. Saraiva had opened with Andre Balazs last summer, still going strong a year later.
"It's such a mess out here, though," The Observer responded. In order to get to an elevator we had to direct the 74-year-old Mr. Haden-Guest through a vast and tightly packed crowd, dodging half the art world and half-drunk fashion kids.
Not going to happen. So Mr. Haden-Guest grabbed a rolled-up poster for the film and started thrashing at the men and women ahead of him. The Observer followed dutifully. And as he smashed into the shocked onlookers, jabbing at them with the makeshift sword, the clearing begrudgingly began to form.
"Who is this guy?" said a woman holding a cocktail.
"It's all right," said her companion. "He's a successful writer."
By the time we reached Le Bain, Mr. Haden-Guest had ditched his Excalibur and began dancing wildly, all jerky wonderful motions that would get anyone with less cache kicked out of the place, or at least mocked. Tom Hooper, the Oscar-winning director of The King's Speech, stood by the bar, watching. He couldn't even eke out a stutter.
Shortly thereafter Mr. Haden-Guest challenged The Observer to fight. We accepted, of course.
"Do you box?" he asked us.
"Not really," we said.
"I used to be a boxer," he said. "I trained with the greatest."
He said the trainer's name. We didn't recognize it.
"All right, let's go!" he said.
The Observer put up two fists and hopped around Mr. Haden-Guest, who was just as nimble in the ring as he was on the dance floor. Unfortunately, the ring in this case was the strip next to Le Bain's indoor hot tub. After a bit of sparring and some light touches to the chest there's a flash and a slight pain in The Observer's nose. It turns out Anthony Haden-Guest has a mean left hook.
"You see that?" he said to us. "You let your guard down."