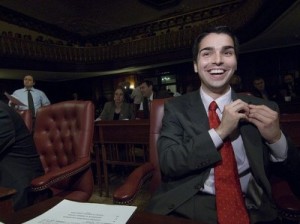 Anthony Weiner's Republican opponents would seem to have one obvious advantage should they choose to challenge the embattled congressman in 2012: their to-date failure to distribute compromising photos of themselves (or parts of themselves) over the Internet.
"Let me think," joked Bob Turner, the 70-year-old businessman who ran against Mr. Weiner last year, when asked about any lewd photos he might possess or have sent to people who were, say, definitively not his wife. "I'm pretty sure I don't."
"No, of course not," said 26-year-old Eric Ulrich, a city councilman from Queens and another rumored challenger, when asked if he had engaged in any inappropriate online banter.
Before a photo of his crotch rocketed around the country and was splattered across various tabloid covers, Mr. Weiner was expected to be a leading mayoral candidate in 2013, and his re-election to Congress was widely considered a given.
Now, facing an ethics investigation of his lewd messages to as many as six young women and a wall of public silence from his congressional colleagues, Mr. Weiner must first survive 2012.
"Look, my constituents have to make the determination," Mr. Weiner said on Monday. "If they believe that this is something that means that they don't want to vote for me, I'm going to work very hard to win back their trust and to try to persuade them that this is a personal failing of mine; that I've worked very hard for my constituents for a very long time, very long hours; and that nothing about this should reflect in any way on my official duties or on my oath of office."
Last November, Mr. Turner captured more than 40 percent of the vote in the Queens and Brooklyn district, a relatively high number for an unknown challenger trying to unseat an established incumbent. And pundits suggest Mr. Weiner could face an even tougher challenge from someone who's won and run before—like, say, Mr. Ulrich.
"He's won in a big chunk of the district," said Jerry Skurnik, a political consultant known for his number-crunching. According to Mr. Skurnik, 50,000 of the 56,000 voters in Mr. Ulrich's City Council district also reside in Mr. Weiner's congressional district, and, among the rumored challengers, Mr. Skurnik called Mr. Ulrich the "strongest."
On Monday, just before Mr. Weiner's tearful, 27-minute long press conference in midtown, Mr. Ulrich stepped outside of his Ozone Park office to discuss the possibility.
"I don't want to talk political stuff in my office," said Mr. Ulrich. "We don't need any conflict of interest rulings against me."
Mr. Ulrich said he had been fielding questions "from both sides of the aisle" about the possibility of challenging for the seat, which would pit Mr. Weiner against something like a right-leaning version of his former self.
The similarities between the two are so striking as to be comical.
In 1992, at the tender age of 27, Mr. Weiner won a six-way Democratic primary and four-way general election to become the youngest person ever to serve on New York's City Council.
In 2009, the ambitious Mr. Ulrich won a five-way special election to become the new youngest councilman, at age 24.
Both enjoy a spirited debate.