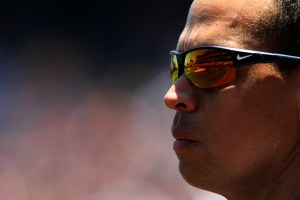 Could Alex Rodriguez still be rounding the bases looking for home?
In February, the Yankees slugger was reportedly warming up to buy a four-bedroom condo at the two-towered Rushmore on Riverside South. The full-floor-spread was said to cost between $5.5 million and $6 million. Extell Development even released a statement in which founder Gary Barnett said Mr. Rodriguez chose the development because he "loved the building, the park and the water views, but we think that the clincher was the baseball field outside the front door."
The deal finally hit public records yesterday, or at least the sale did–it is not entirely clear Mr. Rodriguez is the buyer.
The deed, which dates from March 29 and cost $5.5. million, lists the purchaser of the 3,585-square-foot aerie as The Rushmore 35CD Trust, under the direction of Lester Knispel. Befitting most celebrity sales, this one was performed by a big-time Hollywood business manager, whose clients include Barbara Streisand, Pamela Anderson and Jewel, along with athletes Shaquille O'Neal and Lamar Odom–Mr. Knispel was best man at his 2009 wedding to Khloe Kardashian.
The Valley-based Mr. Knispel does not represent Madonna's ex-lover, however, nor does he work for Mr. Rodriguez' most recent muse, Cameron Diaz, who was house hunting with the ballplayer at the time of this deal. An assistant told The Observer last night that she could not find a record of the sale.
A call to Extell was equally inconclusive. "I don't know," chief counsel Ahuva Genack said. "A lot of people buy in the building, but I would know about it." Adam Modlin, Mr. Rodriguez' broker, declined to comment.
It would make some sense that this is not A-Rod's roost. A $5.5 million home in the middle of glassy Upper West Side tower is nice, but does it qualify as a trophy, the kind the shortstop spent years scouring the city for? Mr. Rodriguez' last home, at the Trump Park Avenue, was listed for $14 million and sold for $9.9 million, about half what he is paying for his new place.
This also would not be the first time the press scared off a potential buyer, eh Sarah Jessica Parker?
Read past Manhattan Transfers here. >>