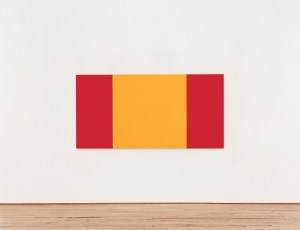 With all the media attention being garnered by the arrest, in Santa Monica on Wednesday, of Boston crime boss James "Whitey" Bulger, it would seem unfortunate if a long-dead German painter having a long-overdue New York retrospective couldn't profit by some of it.
For those familiar with the history of organized crime, the name Blinky Palermo conjures an image of Frank "Blinky" Palermo, a Philadelphia mobster in the 1940s and 50s, manager of boxer Sonny Liston, and notorious fight fixer who was eventually arrested for extortion and racketeering, and died in obscurity in 1996.
A year after Palermo's 1961 arrest in Philadelphia, and a world away, a young German painter named Peter Heisterkamp (born Peter Schwarze, he was adopted) began studying with charismatic artist and teacher Joseph Beuys at the Kunstadademie Dusseldorf. Shortly after beginning his studies there, Mr. Heisterkamp changed his name to Blinky Palermo. This weekend, the Dia Foundation in Beacon, New York, opens the first-ever U.S. retrospective of the artist. Writes curator Lynne Cooke in the show's  catalog: "In appropriating the name of the manager of American boxer Sonny Liston (whom he supposedly resembled), the young artist affirmed his long-standing reverence for American culture, its jazz, its Beat literature, and above all its postwar art."
The show, which was organized by Dia and has already appeared at the Los Angeles County Museum of Art and the Hirshhorn Museum in Washington, DC,  is in two parts — one is at the Center for Curatorial Studies at Bard College, Annandale-on-Hudson, N.Y. — and opens to the public tomorrow. It has some resonance with the Dia's history — the institution opened its 22nd Street space in Chelsea, which it left two years ago, in 1987 with an exhibition of Mr. Palermo's paintings.
Mr. Palermo made seemingly simple, but formally ultra-sophisticated abstract paintings using basic geometric forms, like triangles and squares; he died at age 33 in 1977, while on vacation in the Maldives. You might say he was an artist's artist — Julian Schnabel once made a painting called The Unexpected Death of Blinky Palermo in the Tropics — but that is not to say he wasn't prolific, or even little-shown. In fact, he participated in some 70 exhibitions before he died, most of them in Europe. But even today, his work is underappreciated in the United States; the Dia's retrospective presumably seeks to correct that.
Back in 1987, New York Times critic Roberta Smith visited an exhibition of Mr. Palermo's work at Sperone Westwater gallery, then in Soho, and called him "a purist, but a liberated, freewheeling purist." Visiting the current retrospective in DC in April, Ms. Smith wrote that Mr. Palermo's work evinces "openness to history, to playful suggestion and to the complexity of visual experience, guided by a stringent sense of economy and strong doubts about painting's traditional materials." She also noted that he was considered "a precocious art star" at the time of his death. The art world is always on the look out for those; it will be worth revisiting what they looked like in the past.