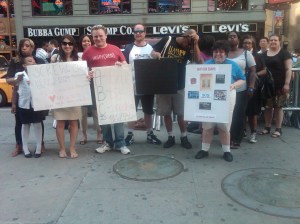 Though Disney brought you Lion King, Cinderella and Bambi, a group of New York protesters today labeled the company as a "serial killer."
"Do not kill my family!" read Debra Davidson's sign, as she stood with a small group of enraged members of Fans United against ABC (cleverly named with the acronym F. U. ABC) outside of ABC's Times Square studio earlier this afternoon.
Protests occurred today in 21 other cities, including Chicago and Miami, in attempts to call attention to the cuts of One Life to Live and All My Children, both of which have been on the air for over 40 years.
Davidson, now 47, has watched another ABC soap potentially on the chopping block, General Hospital, for the past 34.
"I had fallen in love with Luke and the rest was history," recalled Davidson, who now has a framed poster of the General Hospital family tree in her house. She says she is "scared to death" about the potential cancellation of her "favorite show in the world" and doesn't know what her mental state will be if it is canceled.
Tessa McKenzie, a 34-year-old who has been watching soaps since she was a little girl, was the first to arrive at 3:30 for the protest, and the only one present for about the first half an hour (during which the Naked Cowboy continued to draw more attention) before ten or so more soap supporters would arrive.  Sporting a General Hospital­-inspired Luke and Laura t-shirt while toting a trash bag full of neon signs for the afternoon, she was undeterred by the lack of attendance early on and explained to The Observer how her life had changed since ABC announced "the murder" of her soaps on April 14th.
"Those soaps are such a part of our lives," she said. "All my focus is on saving them…. I don't sleep at night. I have anxiety all the time. You can't even breathe [or] even relax while watching them."
Her message for Disney? "We won't let our soaps die… It's not just a show. It becomes part of the family."
McKenzie watches One Life to Live, All My Children, General Hospital and The Young and the Restless every night from 7 to 11, and says she is willing to do whatever it takes – including producing a documentary – to make Disney's stock crash.
Cheneise Carey began watching soaps with her now deceased great-grandmother and great-aunt when she was younger, and continues to watch them Monday through Friday from 1 to 4. Suffering from MS, she arrived at the protest with a walker and explained the benefit the soaps have offered her by allowing her to "disappear into another world."
"It's like this little world that you have," Phoebe Abraham, a student at USC, agreed of the Soap bubble.
Estimating that she has gained 15 pounds since hearing the news of the cancellations, Carey continued, "They touch on so many things in real life that aren't touched on in regular programs."
Cole Bell, who spearheaded the nationwide rallies, watched One Life to Live beginning at 8 years old and said similarly that watching Ryan come out as gay character on the show helped him in his own life.
"The story lines and plot lines have kind of followed my own life," Bell said.
If only they foretold their own futures.