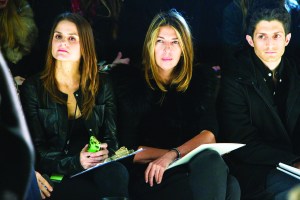 In fashion, you're either in or you're out.
Publishing is a bit more nuanced.
As a result, Hearst's takeover of Hachette Filipacchi Media is going to lead to some awkward elevator run-ins. Take, for instance, the expected reunion between Marie Claire fashion director Nina Garcia and her former colleagues at Elle. She was fired by the magazine amid rumors of an iffy endorsement deal but landed safely at the rival mag. The move allowed her to maintain her more visible gig as a judge on Project Runway, which also made the switch from Elle to Marie Claire.
Things might get equally uncomfortable for Kevin Martinez, who defected from Hearst's Harper's Bazaar to become Elle's publisher a little over a year ago. Mr. Martinez has been bumped down the ladder to associate publisher to make way for Kevin O'Malley, the former publisher of Esquire, now publisher and chief revenue officer of Elle. Meanwhile, Mr. Martinez's former boss at Harper's Bazaar, Valerie Salembier, has moved to Town & Country.
And another Elle alumnus, Carol Smith, who most recently did a half-baked stint at Condé Nast's food group, has been brought in to replace her. There's more: James B. Meigs, who was fired from his job as editor of Hachette's Premiere a decade ago, eventually becoming editor of Popular Mechanics, will now oversee the popular-among-mechanics former Hachette titles Car and Driver and Road and Track, in the newly created position of editorial director, men's enthusiast group.
Sounds a little claustrophobic! Fortunately, Off the Record hears, some Hearst-Hachette staff will spill over from the $500 million tower to the building next door, the Sheffield condominiums. Hearst had the foresight to purchase at least six floors of the Sheffield back in 2007, before Hachette was even a glimmer in David Carey's eye.
The Sheffield condominiums, formerly known as Sheffield57, long suffered from management problems under developer Kent Swig, but there's at least one tenant who must feel right at home: socialite and publishing heiress Lydia Hearst bought a place there in 2008.
kstoeffel@observer.com :: @kstoeffel