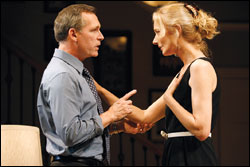 The unhappy couple, as Tolstoy didn't comment but probably should have, can be awfully entertaining. It's the fount from which innumerable memorable theatrical pairs have sprung: Romeo and Juliet, George and Martha, Next to Normal's Dan and Diana, to name just a few.
In the new two-character drama Side Effects, which opened at the Lucille Lortel Theatre Sunday night in an MCC Theater production, the playwright and screenwriter Michael Weller attempts to add another duo—Hugh and Melinda Metz, a local burgher and his frustrated wife, living in an unnamed, undistinguished Middle American city—to that list. He doesn't succeed.
Unless, that is, Mr. Weller was attempting some avant-garde theatro-nuptial commentary on failed marriage as failed art. On that level, things might make sense, even if they don't quite entertain: Side Effects starts out with promise, soon turns tedious and eventually becomes unbearable. The good news is that audience members are bound to it not 'til death do them part, but for only about 90 minutes.
The play takes place in five sequential scenes, all staged in the living room of a comfortable upper-middle-class home. In the first, we find Melinda, known as Lindy (and played by Joely Richardson), sitting alone in the dark, smoking a cigarette. Hugh (Cotter Smith) comes home, irritated but composed—he's the sort who is always composed—angry with Lindy for having left an important dinner party "in the middle of the main course, not a word to anyone." We quickly learn that Hugh is the button-down scion of a locally important family; that he has political ambitions, which are being cultivated by a local power broker, the paterfamilias of a locally even more important family; that Lindy is the free-wheeling, creative sort, a liberal in a conservative town, and is apparently bipolar and, as such, on (or sometimes willfully not on) a variety of psychotropic meds. (There is more than a small echo of Next to Normal here, though without the Pulitzer-winning musical's intensity or deep emotion.)
The dialogue in this opening section is sharp and spiky, well-crafted and insightful, and the relationship between the two characters is both convincing and intriguing in its exasperation: how did these two end up together, what's going on beneath the surface, and, most compelling, how must the pressures of public life amplify the usual discontents and fissures in a relationship?
The actors are well-matched. Ms. Richardson, of the stage-and-screen Redgrave-Richardsons, is lately well-known for her TV and film work; here she is Waspishly sexy, and dry and droll. You can see how the all-American son of a Midwestern industrialist would fall for her. As directed by David Auburn (best known as the playwright who wrote Proof), Lindy's playful and prickly personality rubs up appealingly against Hugh, who retains a spark of a humor and awareness beneath his dutiful, Republican exterior. (Mr. Smith treads this territory skillfully: Hugh is a close relation to his similar recent parts in Next Fall and Kin.)
But as the play moves forward, all the promise of that first scene dissipates. One problem is Ms. Richardson, who, at the preview I attended, repeatedly if slightly fumbled her lines. (Oh, screen actors.) She is also—and this may be Mr. Auburn's fault as much as her own—unable to effectively differentiate between wry, snarky Lindy and manic, out-of-control Lindy. It's disconcerting to suddenly realize, well into a scene, that the side of a character you'd taken for the clear-eyed truth-teller is in fact the unbalanced ranter.
But the larger problem is the development of Mr. Weller's script, which rather than exploring the questions raised by the first scene instead uses a series of increasingly convenient revelations to move his story forward with neither credibility nor insight.
The first of these revelations arrives at the end of that first season, when Lindy surreptitiously returns a phone call from a long-lost boyfriend who has only lately reappeared in her life. ("How is it you always stumble into my life when I'm wide open?" she asks his voice mail.) Then we learn that aides to the power broker trailed Lindy and are preparing dossiers on her. There is the son sent off to school without mom's input; a manic rampage that destroys the living room but is seemingly unmotivated by the story; affairs and counteraffairs; and the blindsiding announcement, almost Giulianilike, of a divorce. And there is, with thudding inevitability, a phone call from a hospital while Hugh and Lindy are in the middle of a fight, with the news that the sons, on their way home from school for a perfect-family dinner (of which photographers have been notified) have had a car accident.
As you roll your eyes, you remember: there are a lot of unhappy couples in soap operas, too.
editorial@observer.com