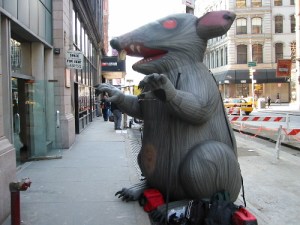 As if the traffic and sports bars weren't bad enough, the construction of Bruce Ratner's Atlantic Yards project has triggered an all-too-apt infestation of Rattus norvegicus in neighboring Prospect Heights and Fort Greene.
Last Thursday night, local City Council rep Letitia James held a meeting for neighbors to outline their rat complaints, which included:
Rummaging through garbage
Eating garbage
Eating garbage under cars
Eating garbage under cars and sparking fires
Eating car insulation
Rummaging through heirloom vegetable gardens
Chewing through car insulation
Gnawing through (no doubt historic or artisian) brownstone doors
Climbing up legs
Rats the size of cats
Rats the size of dogs
Rats the size of rats
Rat tsunamis
Hissing
Two stolen Bugaboos, with babies attached.
O.K., so we made that last one up, but the hysteria has reached such epic proportions, it seems possible. After all, The Brooklyn Paper is worried about the hantavirus infecting BroBos this summer if things don't get better. Given their weak constitutions, it is bound to be a deadly epidemic.
A Forest City Ratner spokesman suggested checking with the city, but that only seems to confirm the neighborhood's nagging concerns. The 311 complaints for rats jumped nearly half around the arena, from 190 last year to 313 this year, and further east, where vacant buildings still stand or have recently been demolished, things are even worse. Complaints have risen nearly three-fold, from 179 to 501.
"We have had a full abatement program in place for years, long before construction started. We continue to monitor the actual site and will work with M.T.A., ESDC and the city," the Forest City Ratner spokesman wrote in an email.
Neighbors want enclosed garbage cans and traps spread throughout the neighborhood at Ratner's expense, charging that enough taxpayer money has already been given away to the developer.
Maybe if they just changed their name to Forest City Catnip, it would solve the problem.