David Cho is stepping down from his position as publisher of The Awl. He is relocating to Los Angeles on Sunday to work for Bill Simmons at Grantland, he told friends in a mass e-mail.
Mr. Cho did not specify whether the position is business side or editorial. He wrote, "The opportunity at Grantland and to work with Bill and to work with some of the people at ESPN is the only job that ever could have made me even consider leaving what Choire and Alex and myself have built at The Awl."
As for his replacement at The Awl, a candidate has been chosen but he hasn't officially committed.
"I feel good at least saying that he is 99% there and that he will be an incredible hire and do an insanely great job," he wrote. (Good luck, whomever you are.)
Mr. Cho did not immediately return The Observer's request for comment.
Update: But Choire did!
"I can officially upgrade that new publisher hire from Cho's "99%" to
100%, as in, it is a done deal, and can also reveal that he is
'totally awesome,'" he wrote.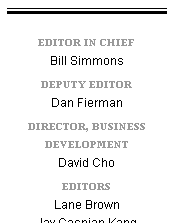 Update 2: David Cho's title at Grantland is officially "Director, Business Development." 'Says so right there on the masthead.